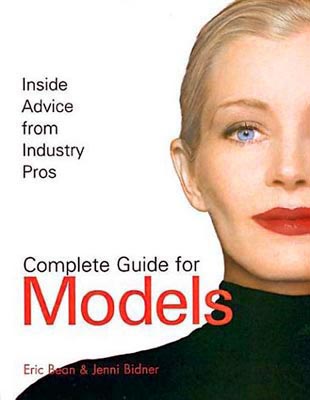 you need to have a complete modeling portfolio, BEFORE starting a modeling career.
New York, NY (PRWEB) August 8, 2005
"Scams aimed at models often prey on the inexperienced teenage model. Teens often hear glamorous stories of 'being discovered' and want that fast excitement themselves. This excitement can make them vulnerable to scams," says Eric Bean, a top NYC fashion photographer and author of "The Complete Guide for Models." "Modeling is unlike most careers in that there are no ABC's to success. With a doctor or lawyer, you go to college, study diligently, and with hard work, you will be a success. Not true for all models, a model can become successful in a few weeks or months, without any formal training, but this is usually the exception to the rule. Models such as Tyra Banks, Gisele Bundchen, Christy Turlington, and socialite Paris Hilton, enjoyed quick success in modeling. While other supermodels, such as Linda Evangelista, and Heidi Klum, worked hard for many years before achieving worldwide success."
One of the most common scams in modeling is that "you need to have a complete modeling portfolio, BEFORE starting a modeling career." The truth is many modeling agencies find models in everyday places, such as a mall, on the street or through friends, without any photos at all. The truth is often that a modeling agency will want to produce a portfolio for a model based on the style or type of modeling they think work for their particular clients. For example, if a model agency's major clients are department stores, they will want their models to have clean, fresh, catalog photographs. And most often, they will have access to reputable photographers, to produce photographs that will get the model the most work, and at a reasonable price.
Many "portfolio scams" originate from small model agencies, and photographers looking to make a quick buck. They prey on a models inexperience and often try to convince models that they need an extravagant "modeling portfolio session." They are interested in making money off of the model, and not to help further the models career. While the resulting photographs might be interesting, and fun to shoot, they might be completely unusable by a legitimate modeling agency.
Another version of this scam, is pressure directly from a model agent to pay the modeling agency alot of money for portfolio shoots. The "pitch" is usually "We can get you a professional portfolio shoot with our photographer, in one day, for $1000-$2000." The agency will make as much as 80% profit on deals like this. Reputable agencies don't bother with those types of arrangements because they are in the business of booking models for advertising, catalog, or commercial shoots. Most model agencies have relationships with photographers, and will recommend them to produce photographs, often for free or very little money. Legitimate agencies will occasionally act as a "middleman" between the model and photographer, those shoots usually range between $100-$200 dollars. This will often cover film and processing, and help both the model and the photographer's portfolios.
Often a teenage model will naturally have a clean, beautiful look, which is a perfect starting point. These scams often mislead models into believing they need to add sexy photographs with alot of extra make-up and hairstyling in their portfolios. The resulting portfolio is often full of lingerie photographs and overtly sexual images. This will limit the type of clients this model will work with, often missing out of the higher paying advertising work. Clean or minimal make-up, classic clothes, and a pleasant expression should always be the first priority in a portfolio.
Art Director Alberto Coto hires many models a month for Getty Images, a successful photography agency. "It's not the quantity of photographs I'm looking for in a portfolio, it's the range of 'looks' or emotions, and how comfortable they look in front of the camera. Occasionally a model will walk in a casting, happy and smiling, but there is not one photograph of her smiling, in her portfolio. This makes me think twice about hiring her for a shoot that requires alot of smiling. I don't need to see an expensive photoshoot in a portfolio, just clean images that can be as simple as a shoot on the beach or in a park."
Just like with doctors, it OK to get a "second opinion," especially when it comes to spending money on a career in modeling. Often a parent is so eager to see their child on a modeling shoot, that they are easily lured into scams that are not only a waste time and money, but can hurt a young persons fragile ego. Try to seek out other working models, for advice, or read current books on modeling such as "The Complete Guide for Models" by Eric Bean for a list of common scams and helpful advice from people who know. Eric interviews many people in the modeling industry, such as Katie Ford, of FORD Models. She gives us a glimpse as to where the modeling industry is headed. Successful model agent, David Grilli gives "insider advice" that saves beginning models time and money. Legendary model, Carmen Dell'Orefice, gives the reader a glimpse into what it takes to have a successful career as a model for over 50 years.
Avoid costly scams with research, planning, and relyable advice. Find a "modeling mentor" and always get a second opinion. This will make a career in modeling a positive, life changing experience.
"The Complete Guide for Models"
ISBN: 1579905765
# # #