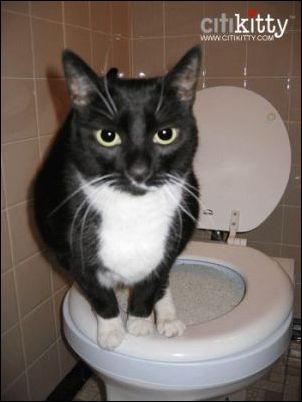 When I moved from a large home in Pennsylvania to a small apartment in New York City there was no place to hide my cat's litter box
New York, NY (PRWEB) August 8, 2005
New York City entrepreneur Rebecca Rescate has launched CitiKitty™, an easy-to-use toilet training kit that will relieve millions of cat owners from the mess and smell left behind by their beloved feline.
"When I moved from a large home in Pennsylvania to a small apartment in New York City there was no place to hide my cat's litter box," said CitiKitty founder Rebecca Rescate. "The thought that my guests could see and smell the litter box stressed me out. After telling a friend my situation I jokingly mentioned toilet training my cat. That was the day CitiKitty was born."
Rescate read countless toilet training success stories, mostly using homemade devices, but could not find an easy-to-use cost effective toilet training kit. She knew the process could be simplified. Realizing that most cat owners don't have the time to become a cat toilet training expert she created the first complete toilet training kit available worldwide -- CitiKitty.
CitiKitty owners save money on litter, time cleaning the litter box, and energy from carrying litter up flights of stairs. Plus, CitiKitty helps preserve precious living space.
The CitiKitty Toilet Training Kit is patent pending and made in the USA. CitiKitty is $29(US) and is available at http://www.citikitty.com. CitiKitty offers worldwide shipping and for a limited time, free shipping in the United States.
For more information and to see a video of a CitiKitty toilet trained cat please visit http://www.citikitty.com.
Media Contact:
Rebecca Rescate
(917) 573-7673
# # #