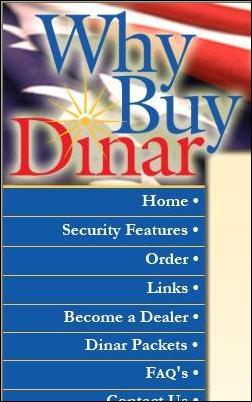 Delano, MN (PRWEB) August 16, 2005
With the impending approval of Iraq's new Constitution by their government, there has never been a better time to invest in the future of Iraq. This is a historic move for Iraq in regaining it's once great nation, and oil rich economy. Are you positioned to profit from Iraq's future economic success? You are if you buy New Iraqi Dinar. Interested in finding out more about the New Iraqi Dinar? Why Buy Dinar has a website rich with information and resources about the Iraqi Dinar. If you do decide to buy Iraqi Dinar, they are also an established New Iraqi Dinar dealer who will not only give you a low price, but will guarantee the authenticity of their currency with a triple your money back guarantee.
Many believe that once the Iraqi Constitution is ratified that it would have a positive effect on the value of the New Iraqi Dinar, causing it to appreciate even further. This has caused a surge of investors buying up all the Iraqi Dinar they can find leading up to the last Constitution deadline. With the voting delayed until August 22nd, it opens another window of opportunity to buy the Iraqi Dinar at a historically low price. That window could close very soon.
Ask most people if they could envision themselves investing in foreign currency, especially the Iraqi Dinar, and they would probably look at you as if you'd asked whether they'll ever travel to Pluto some day. Yet the website at http://www.why-buy-dinar.com explains the risks and rewards of investing in the New Iraqi currency, and provides links to objective and credible sources for further information about the opportunity.
With companies like GM, Coca-Cola, Pepsi, Chevron, Texaco, HSBC and many others moving in to do business in Iraq, there couldn't be a better time to take a low cost stake in Iraq's financial future. Iraq's economy was one of the wealthiest in their region for decades. Reconstruction money is just starting to flow into Iraq. In the next few years, they anticipate Billions of Dollars in more Aid and corporate investment to add to Iraq's bottom line. Iraq's GDP grew 50% last year despite the insurgency and infrastructure problems. They are estimated to post another 34% GDP growth this year. Many economists predict some of Iraq's greatest economic growth to come in 2006-2007. This combined with their ever increasing oil output and the climbing price of oil, and it is easy to see that Iraq is poised for dramatic growth.
The Iraqi government is calling on international companies to develop 11 oil fields in the south to increase oil production to 3 million barrels a day, said the manager of oil fields development at the Oil Ministry. At the end of this year, the Oil Ministry is expected to sign contracts with the international companies to develop the southern fields. Among the fields the ministry is trying to develop are the Majnoon field, which has reserves of 12 to 30 billion barrels, and the West Qurna field, which has reserves of 11 to 15 billion barrels.
Last year, the Iraqi Ministry of Industry issued 7,661 licenses for new businesses: 2,896 in the construction sector, 1,520 in food, 200 in textiles, 667 in the plastic and chemical industries, and 1,336 in mining and resources. This year, Adel Karim, a deputy minister for industrial development, has announced the government's intention to start the privatization program, with cement, brick and pharmaceutical factories being transferred into the private sector as a first step.
The government is also cutting taxes to boost economic activity. Iraq has slashed income tax to 15% from 49% and substantially increased the minimum sums individuals can earn net of tax. The progressive tax system replaces a 1982 law under which individuals had to pay 49% of income beyond certain salary brackets. The current tax system is progressive.
It starts with 3% up to a maximum of 15%.
The US government has already invested 200 Billion Dollars into the future of Iraq. They have committed another 18 Billion in reconstruction Aid. That is more than $2000.00 per US Household. That does not begin to account for the additional US and foreign aid along with the ever increasing corporate investment going into Iraq. Are you positioned to profit from those investments? Why Buy Dinar explains exactly how you can capitalize on that growth by buying New Iraqi Dinar.
This is a similiar situation to what happened in Japan and Germany after World War II. Their economies were rebuilding so you could buy up their currency very cheaply. Once their economies got back on track, anyone who had taken advantage of that opportunity became extremely wealthy.
To learn more about the New Iraqi Dinar, visit http://www.why-buy-dinar.com
# # #