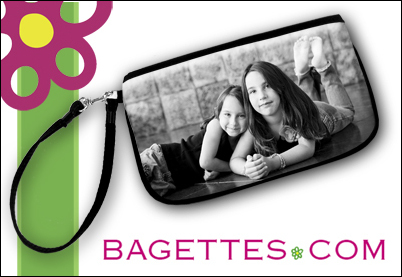 Prairie Village, KS (PRWEB) August 19, 2005
With school starting, the holiday shopping season will be here in no time, and one of the hottest fashion trends on everyone's list is the "must-have" purse of the moment. In an age when anyone can buy a knock-off Kate Spade handbag, Coach bag or Juicy Couture purse on any New York, Los Angeles, Miami or Chicago street corner, it's time to stand out from the crowd with a one-of-a kind handbag that's made especially for you, your best friend or family member. At Bagettes.com, we are kicking off the holiday shopping season with a new style of photo purse, The Wristlet; a classic, versatile bag, featuring your favorite photo, that suits every woman on your holiday shopping list.
Measuring 8 inches by 5 inches, The Wristlet is a stylish bag that can be used on its own, or can make the transition from day to night for the fashionable working woman who doesn't have time to go home before a night out after work. While anyone can sport a designer label, Bagettes.com has designer style, combined with the unique quality of a personal photo on the purse.
Bagettes.com makes it easy to create custom photo gifts using your favorite photos - a family reunion in Hawaii, a girls' trip to Las Vegas, your beloved Golden Retriever, a new baby, pictures of your kid's sports team, dance or cheerleading squad, a golf tournament, or any memorable image from a digital camera or film. Bagettes.com creates products using a high tech imaging process. The images are imbedded into the fibers and the result is a high quality image on a bag that won't fade, peel or rub off and will last for decades.
As gas prices continue to soar, our economy headed for recession, and interest rates on the rise, you can save money and time, by shopping for a unique photo purse on your computer from the comfort of your home. A gift from Bagettes.com is a perfect gift idea for any lucky woman on your holiday gift list - mothers, friends, grandmothers, book club friends, teacher's gifts, coach's gift, sorority sisters, bridesmaids – the possibilities are endless. In addition to the new Wristlet, the line of products includes make up bags, cosmetic bags, a keychain/coin purse, handbags, and a golf accessory bag designed to hold tees and ball repair tools. Also in the line is a large multi-purpose tote bag, which can be used as a travel bag, knitting bag, diaper bag, or gym bag for fitness buffs.
Bagettes.com is an online store and manufacturer owned by Internet entrepreneurs, Bryan and Felice Azorsky. With their dedication to excellent customer service, high quality products at affordable prices, and continued development of new products, Bagettes stands out in the personalized photo gift industry.
# # #