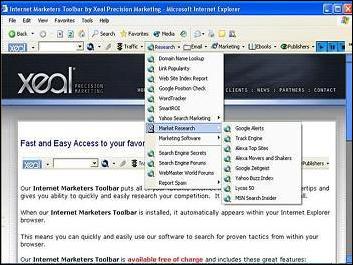 Tulsa, OK (PRWEB) August 30, 2005
Tulsa-based marketing firm Xeal Inc. has announced the free release of 'The Ultimate Internet Marketing Toolbar,' designed to not only allow people to search all of the major search engines from their browser, but they also have the ability to benefit from a variety of specialized tools used by Internet Marketing professionals everyday.
"While consumers may find that their Google, Yahoo, or MSN toolbars are helpful to their needs, we believe that professional Internet Marketing experts need a single dedicated toolbar designed to make their jobs easier," said Tony D. Baker, CEO of Xeal Inc, and creator of the toolbar.
The Ultimate Internet Marketing Toolbar includes:
Quick access to all major pay-per-click providers
Advanced calculating tools to determine keywords
Link Popularity, Index Status and Position Tools
Google Page Rank
Alexa Rankings
This free toolbar also features a variety of research tools, quick access to over 100 resources, including a variety of ebooks, as well as utilities for publishers, advertisers and content writers.
Like many toolbars, The Ultimate Internet Marketing Toolbar features pop-up blocking, cache tools, uninstall, anti-spyware, anti-spam resources, and other privacy features. Since Xeal is open to take suggestions from toolbar users who want items added to the toolbar that may not already be there, the toolbar also includes the ability to auto-update.
The most unique feature available with The Ultimate Internet Marketing Toolbar is the free audio tip of the week that is built right into the toolbar itself. Tony D. Baker, Oklahoma's leading Internet marketing expert and the world's leading expert on Press Release Optimization, provides free weekly tips and techniques directly through the audio button on The Ultimate Internet Marketing Toolbar.
The Ultimate Internet Marketing Toolbar is available free at both Xeal.com and CNet's Download.com. To install the Ultimate Internet Marketing toolbar and easily submit to the major search engines and directories, research the latest techniques, and learn more about competing websites, visit: http://www.Xeal.com/tools/toolbar/getbar.htm
About Xeal Inc.
Xeal Inc. has been providing results-based precision marketing services to advertisers, agencies, and publishers throughout the United States and various countries around the world since 1995. Xeal's extensive advertising network consists of placements from search engines, web sites, radio, television, and print media. Through the Xeal network and proprietary technologies, Xeal helps advertisers create, plan, and execute innovative marketing programs that precisely target consumers and generate measurable results.
About Tony D. Baker
Tony D. Baker is Oklahoma's leading Internet marketing expert with over 750 clients and over ten years of Internet marketing experience. As an author and public speaker, Baker has written several ebooks and has spoken at conferences throughout the United States. Tony D. Baker founded Xeal Inc. and serves as President and CEO. Memberships include the Tulsa Chamber of Commerce and the Tulsa Press Club.
PODCAST: XealCast Interview with Tony D. Baker
http://www.Xeal.com/xealcast/UIMT-083005.mp3
# # #