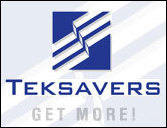 Austin, TX (PRWEB) August 28, 2005
Austin, TX — August 29, 2005 — Teksavers.com, a trusted online reseller of refurbished and used Cisco hardware, today unveiled its new and improved Website. The enhanced Teksavers.com is designed to ease network technicians' purchase of surplus and excess Cisco equipment. By purchasing used and refurbished Cisco instead of new, users of the site will save up to 90% on their Cisco routers, switches, VPNs, firewalls, intrusion detection systems, phone VOIPs and memory. The upgraded version of the site can be reached online at http://www.Teksavers.com.
While the site has been transformed to provide a more visually appealing and user-friendly Cisco-buying experience, Teksavers.com's existing customers need not worry that the company's commitment to low prices and client satisfaction has been compromised. Site purchasers can rest assured that they will still find the same warranties and guarantees they've come to expect from the Teksavers.com name. By remaining attuned to its high standards of excellence, Teksavers.com ensures every used Cisco purchase is as hassle-free as a new one.
Oftentimes, purchasing pre-owned, used or refurbished merchandise can be a risky proposition. Teksavers.com, however, eliminates the gamble associated with pre-used Cisco purchases. Company president Juan Staalenburg explains, "Every Cisco product we sell is backed by a one-year warranty, a 100% money-back guarantee and a 110% low-price guarantee." What this means for Teksavers.com's customers is that not only will the company refund or replace merchandise that does not meet the buyer's expectations, but in the event that he or she finds a lower price at another online store on a currently in-stock product, Teksavers.com will beat it by 10% of the difference.
What you'll find on the Teksavers site:
According to a recent USA Today article, the 5.6 million small businesses that currently exist in the U.S. "spend billions of dollars annually on everything from technology to credit cards to cars." Faced with a multitude of daily tasks and only a limited time to perform them, it's only natural for small business owners turn to the Internet for their Cisco networking needs, and Teksavers.com strives to make their time-saving goals as efficient and convenient as possible.
As the world's largest maker of networking equipment, Cisco has become the trusted product of choice for large and small businesses alike—to the tune of $6.1 billion dollars in net sales last year. Unfortunately, this unparalleled reputation often comes with a hefty price tag attached. While large businesses can often absorb such costs, small businesses must constantly make purchasing decisions on the basis of their bottom line. With its low prices, Teksavers.com affords even the most cost-wary small business owner access to the very best networking equipment.
For more information on Teksavers.com's money-back and low-price guarantees, contact Juan Staalenburg at (207) 336-2286. To learn how much money Teksavers.com's refurbished and used Cisco inventory can save you on your Cisco requirements, visit the company online at http://www.teksavers.com.
Contact information:
Juan Staalenburg
3815-B Jarret Way, Suite 260
Austin, TX 78728
(512) 255-8395
###