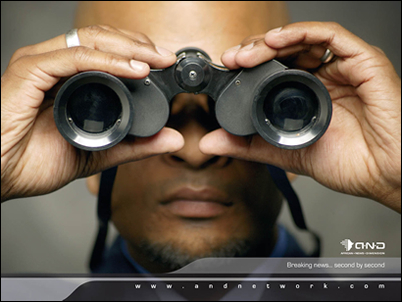 Beverly Hills, CA (PRWEB) August 31, 2005
African News Dimension (Proprietary) Limited, the publishers of Africa's Andnetwork.com launches this week on Thursday, September 01, 2005.
Journalists from Africa are invited to join Andnetwork.com as contributors in all categories of news and current affairs. Editors and Media buyers from around the world are invited to license news content from Andnetwork for reproduction.
Andnetwork seeks to provide the internet community and news buyers from around the world with new, unique African news content in politics, sports, business, culture and art delivered on a second- by- second basis.
Journalists can now contribute to Andnetwork at any time of day or night. "Many of our contributors are Journalists currently employed by daily's, weekly's, radio stations, television stations and magazines in Africa. Their work can be viewed instantly as it is posted online. This is what makes Andnetwork unique." Says Ralston E. Smith, CEO African News Dimension.
Andnetwork.com aims to become the world's preferred provider of fresh, ongoing and breaking African news content. No other news channel or network has ever given special focus to the 59 countries and Islands of Africa. Andnetwork is the first global name in African news delivered in the form of live video, audio, pictures and text.
The process to join Andnetwork is a seamless one that hardly takes five minutes. Signing up is done by going online to http://www.andnetwork.com and clicking on the journalist sign up button. You will then be taken to a secure server hosted page that will request you to create a new user profile. A confirmation email is then sent to your email address. Click on the email to confirm your registration and continue to submit a story that will be immediately available to news buyers and viewers from around the world.
Andnetwork.com licenses African news content in all forms including video, pictures, audio and text. News content buyers do not have to pay to view fresh content from Africa on Andnetwork. All news fresher than 24 hours is free to view on Andnetwork, after which an annual subscription fee of $49-00 is required. The complete content licensing process is done by way of e-commerce. News buyers can purchase content by way of credit card or direct deposit.
Journalists are paid a royalty fee for their work each time it is licensed for reproduction regardless of time. Therefore, all the content within the Andnetwork databases is the copyrighted property of African Journalists and at no stage is copyright ever transferred.
Andnetwork recognizes African content as the assets of the Journalists that have contributed to it. You are invited to try out the Andnetwork system at: http://www.andnetwork.com
# # #