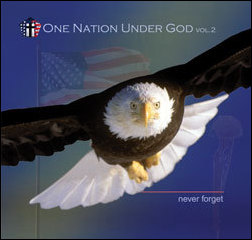 North Canton, OHIO (PRWEB) September 6, 2005
Frog & Scorpion Records Corp. announces the release of "One Nation Under God Vol.2 – Never Forget" which is dedicated to those serving in our Armed Forces.
The latest in this popular music series is a "Thank You" to the service men and women who protect our country and those who have gone before them. This release features a unique blend of patriotic songs gathered from artists around the country and benefits Armed Forces Charities and Believe in Tomorrow National Children's Foundation.
The original "One Nation Under God" was a tribute dedicated to the lives that were lost and souls that live on after 9-11. Titled, "Remembering 9-11," the first disc features a then unknown Buddy Jewell before his USA Network Nashville Star win. This first release was turned into a series in 2004.
The "Never Forget" compilation features Grammy Winner Jim Peterik of Survivor with Johnny VanZant on "The Day America Cried," three-time Emmy winner A.J. Gundell on "The Wall," Marc Wasmund of NEMESIS 3 with a live version of "Hard to Forget" and Joe Cantafio with "They're All Not On The Wall."
Jeff Marginean, CEO and Producer of the series, says, "The intent of the series is to showcase various styles of music from a wide range of artists and benefit worthy charities. It is important that we help as many people as possible with this series and that worthy talent remain available to the general public."
Volume 3 and 4 are planned for release Winter/Spring 2006 respectively, Volume 4 will feature some of the most talented children in our country.
For additional information or product availability contact our Media Dept. or visit http://www.onenationseries.com.
About Frog & Scorpion Records Corp.:
Frog & Scorpion Records is an independent record label dedicated to the development of new exciting musical talent of all genres for the serious listener. We intend to bring new artists and talent to your attention for years to come.
Contact:
Jeff Marginean
Media Dept.
Frog & Scorpion Records Corp.
330-499-0856
P.O. Box 2946
North Canton, Ohio 44720
###