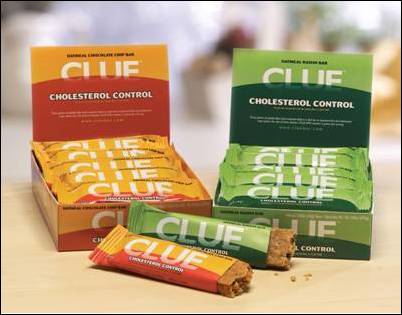 Annapolis, MD (PRWEB) September 6, 2005
Say goodbye go statin drugs and say hello to Clue. Clue Bar, http://www.cluebar.com, launched by Del Mar Nutrition in 2002, is on the market with an all natural solution to cholesterol and gaining momentum due to September's Cholesterol Awareness Month by the American Heart Association. Containing ingredients that have been shown to reduce cholesterol, Clue Bars, along with a sensible diet and exercise, finally provide an all natural alternative to the cholesterol lowering medications often associated with multiple negative side affects. Clue Bars are available at retailers across the country including Ralph's and select Albertson's and on their website at http://www.cluebar.com.
In 2002, Andy Gloor, the mind behind the bar, struggled with attempts at reducing his cholesterol to acceptable levels. Andy, who was diagnosed with high cholesterol, discovered the negative side affects of statin medications. He was amazed by the lack of natural alternatives on the market. After researching the effects that different ingredients had on cholesterol, he decided there was a large, unmet need for something on the market besides the usual statin drugs. So Andy developed Clue, based largely on a July 2003 study published in the Journal of the American Medical Association that showed that a diet which includes soy protein, nuts, cereals and plant sterols was nearly as effective in reducing cholesterol levels (30.9% versus 28.6%) as commercial statin-type drugs (such as Lipitor).
Clue Bars are naturally sweetened with fruit juice and packed with ingredients in the study including a blend of soy protein, rolled oats, chlorella, walnuts and spirulina. Clue Bars also have 4 grams of fiber which include 2 grams of soluble fiber per serving. The American Heart Association notes that three grams a day may reduce the risk of heart disease.
Consumers have loved using these delicious, tasty bars. With a dedicated group of online users, Clue Bar customers battling cholesterol are ordering the bars by the cases. One such fan comments "I lowered my cholesterol 50 points in just two months... my Dr. was amazed and was very interested in the bars... She couldn't believe my success... I had tried the medication but I couldn't take the side effects... So... I added a little more exercise and your bars and the rest is history!! I am so glad I read about your product."
September is cholesterol awareness month led by the American Heart Association, started because the serious issue associated with high levels of cholesterol and growing concern of health related issues. According to the Heart Disease and Stroke Statistics – 2004 Update by the American Heart Association, high cholesterol is the leading cause of heart disease, and over 105 million Americans (over 50% of the population!) have total cholesterol of 200 mg/dL or higher, a level at which cardiovascular risk begins to rise. And high cholesterol is not gender specific - high cholesterol is just as prevalent in men as it is in women (50.4%, 50.9%, respectively in regards to numbers above, 2001). The same report states that cardiovascular disease accounted for 38.5% of all deaths in 2001 (1 of every 2.6 deaths), more lives per year than the next five leading causes of death combined.
Clue Bar is joining in the efforts in September of raising awareness of the dangers of high cholesterol by providing pamphlets and distributing information at local events. Clue is also helping make life easier by starting an online 'Clue Club', where you can place an order so bars arrive at your doorstep monthly and you don't have to worry about remembering to order them on an ongoing basis. Clue Bar is also educating consumers at retailers and focusing on getting more retailers on board to carry more products geared towards fighting cholesterol.
For more information on Clue Bar, to find a retailer in your area, or learn more about the dangers of high cholesterol visit http://www.cluebar.com.
# # #