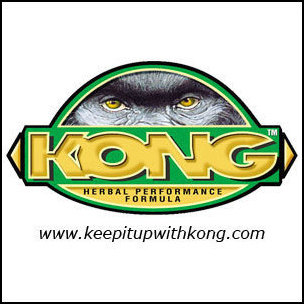 West Palm Beach, FL (PRWEB) September 14, 2005
West Palm Beach, FL (PRWEB) September 13, 2005 -- BodyBuilding.com has added KONG and KONG Black Voodoo male enhancement products to its expanding line of sexual health products.
KONG and KONG Black Voodoo are leading natural male enhancement tablets and capsules enjoyed by thousands of satisfied customers for years.
Kong products contain Amazon Herbs such as Catuaba Bark, Muira Puama and Ashwaganda Root that have been proven effective as sexual health and sexual performance boosters for hundreds of years by indigenous peoples and South American Shamans.
Kong products were formulated in 2002 by leading herbal pharmacologists on assignment for KMS-Thin Tab 100, Inc. (KMS) and have grown to become KMS' best selling products.
Kong and Kong Black Voodoo are consistently rated best-in-class by product review resource sites when compared to other category leaders including Enzyte, Veromax, Ogoplex and Stamina Rx.
Kong products are promoted via popular regional bikini contests and advertising campaigns developed by Clear Channel Broadcasting, see below:
http://www.keepitupwithkong.com/calendar.html
Kong products are also visible in leading national print publications such as ARENA, FHM, MAXIM, STUFF, BLENDER, USA Weekend and other popular magazines.
KMS is located in West Palm Beach, FL and has developed and/or distributed quality dietary supplements for over 10 years including Kong, Kong Black Voodoo, Jointrex, BluEarth, CarbCutter, Carbolizer, Eat Less, Thin Tab and Fat Cutter. (Eat Less, Thin Tab and Fat Cutter are trademarks of HNS. Carbolizer is formerly a trademark of HNS, currently owned by KMS)
Jointrex (Jointrex.com) is a premium joint care supplement produced by KMS and formulated with Chicken Collagen II, MSM, Hyaluronic Acid (HCA), Chondroitin Sulfate and Glucosamine Sulfate.
BluEarth (BluEarth.com) is a premium Multi Vitamin Mineral Supplement produced by KMS with a unique 2 tablet per day B-100 formula (100 mg per day of entire B-Complex)
Carbolizer is a weight management product acquired by KMS that is undergoing a formula improvement and will be introduced in the near future.
KMS is proud to add BodyBuilding.com to the listing of leading online distributors of KONG and KONG Black Voodoo products including BodyBuilding.com, Vitadigest.com, VitaSprings.com, SlimStore.com, DietBreaktthru.com, 911HealthShop.com and countless other fine retail locations.
BodyBuilding.com will have a booth at the Joe Weider Olympia 2005 Body Building Show, Oct 13-16 in Las Vegas, NV and will be distributing free product samples and information, including free Kong and Kong Black Voodoo samples at this show.
For Additional information visit:
Additional Press Releases below:
Kong & Kong Black Voodoo congratulate Clear Channel and Lexxus:
http://www.emediawire.com/releases/2005/6/emw248103.htm
BluEarth Multi & Jointrex Joint Care Supplements:
http://www.prweb.com/releases/2004/9/prweb154253.htm
Contact Information:
KMS
8390 Currency Drive #5
West Palm Beach, FL 33404
561-845-1072
FAX 561-845-1262
Toll Free Order Line
1-888-844-6822
Notice: (None of the above statements have been approved or reviewed by the Food and Drug Administration and are not intended to diagnose, treat or cure any disease. No Health Claims Intended. BodyBuilding.com is a trademark of are trademarks of BodyBuilding.com. This press release was prepared by KMS and does not necessarily reflect the views or opinions of any other vendor or entity listed herein other than KMS.)
# # #