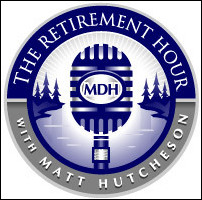 The Retirement Playbook - Get in the Game
Portland, Ore, (PRWEB) October 1, 2005
Popular talk show host and respected retirement plan expert announced his "Retirement Hour Blog" (http://www.retirementhourblog.com) today, after several weeks of development. The Retirement Hour Blog will deliver daily tips, tools and other resources to an increasingly interested listener base.
"Our show has a very loyal and growing listener base, and we needed to find a way to communicate upcoming show topics, announce interesting guests, post transcripts from valuable interviews, post audio clips and archives of the show and more. Our blog serves this very purpose." Hutcheson said.
As The Retirement Hour™ expands into new markets, Hutcheson also wanted to be certain new listeners were able to familiarize themselves with him, his mission and how The Retirement Hour™ can benefit them. To do this he has arranged to sell his latest audio CD, "The Retirement Playbook - Get in the Game" for a discounted rate through the blog site (http://www.retirementhourblog.com). "We hope our audience, especially our newest listeners, will find the CD uplifting, educational and we hope it will familiarize them with our show." Hutcheson also announced that other tools and resources are now available at the Retirement Hour rate, such as http://www.compassretirement.com and http://www.retirementreadinessinstitute.com.
"I'd also like to personally welcome our newest station affiliate, The Fabulous 630, KTRW in Spokane Washington," said Hutcheson. He continued by saying, "KTRW is a great fit for The Retirement Hour."
"Matthew D. Hutcheson (http://www.matthewhutcheson.com) is a highly entertaining, yet thoughtful and intelligent host, and is among the most astute retirement plan experts in the country" says renowned pension Attorney, Brooks Hamilton. "There is no one more qualified or capable to bring retirement related information to the millions of potential listeners in a fun, interesting and uplifting way," Hamilton says.
Listen live, Thursdays at 4:00 PM Pacific, 7:00 PM Eastern on your favorite station (check local listings) or over the Internet by visiting http://www.theretirementhour.com. Live audio stream "listen" links activate at 10 minutes before the hour (3:50 PM Pacific).
About Matthew D. Hutcheson
Matthew D. Hutcheson is a professional, independent retirement plan fiduciary whose clients include 401(k) and other qualified retirement plans sponsored by publicly traded NYSE and NASDAQ corporations. He also provides consulting and coaching to qualified plan sponsors of all sizes, as well as individuals, couples and groups. Mr. Hutcheson has a Masters Degree in Financial Services, a number of graduate certificates and is a Certified Pension Consultant.
About The Retirement Hour
"The Retirement Hour with Matt Hutcheson™" is an informational, uplifting, and educational radio show exclusively about preparing for retirement. It's also the nation's ONLY show of it's kind and you are invited to call Thursdays 4 to 6PM Pacific / 7 to 9PM Eastern at 1-866-MD-HUTCH (634-8824)! Hosted by America's Retirement Coach™, Matt Hutcheson! Visit http://www.theretirementhour.com to tune in or for more information.
###