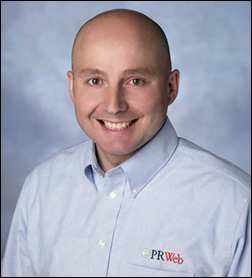 This is an exciting opportunity for our members in the United Kingdom who we often don't get to meet with in person
Ferndale WA (PRWEB) October 18, 2005
PRWeb, the online leader in press release distribution services for small- and medium-sized businesses and organizations, recently announced that its first Online Public Relations mini-Symposium will take place Oct. 21 in London. Public relations and corporate communications professionals throughout the United Kingdom are invited to participate in this valuable meeting to learn how to effectively utilize the technology and features of PRWeb's exclusive Online Visibility Engine™.
PRWeb Founder and CEO David McInnis and Executive Vice President Mick Jolly will host the free event, and along with Greg Jarboe, co-founder and CEO of SEO-PR, and Tim Gibbon of Elemental PR, they will share online strategies for increasing media coverage and online visibility.
"This is an exciting opportunity for our members in the United Kingdom who we often don't get to meet with in person," McInnis said. "We will be sharing exclusive tips and secrets about our services, blogging, RSS feeds and search engine optimization and many other benefits to using PRWeb."
A cocktail reception following the conference will allow guests to network with their peers and industry leaders.
As a special thank you, PRWeb also will give each guest credits worth U.S. $240 to apply toward future PRWeb services.
About the Event
Host: PRWeb International, Inc. (David McInnis, CEO)
Location: Marriott London County Hall
County Hall, Westminster Bridge Rd., London UK SE1 7PB,
When: Friday, October 21, 1:00pm to 4:30pm
Phone: 020-7928-5200
Cost : Free Admission (Registration Required http://tinyurl.com/b5th3 )
About PR Web (http://www.prweb.com):
Based in Ferndale, Wash., PRWeb ™ has offered online press release distribution services since August 1997. In 2001, PRWeb moved to a user-supported platform and now delivers more than 12,000 press releases a month. The PRWeb™ service has become an industry leader primarily because of technological advances made possible by the financial contributions of its users.
PRWeb™ is the pioneer and leader in online visibility for direct-to-consumer news releases. Founded eight years ago by David McInnis as a free newswire, PRWeb has since become one of the largest press release distribution services on the Internet. PRWeb releases get attention because they bypass the news media filter to create buzz on the Internet -- while also going directly to the media via its opt-in e-mail system.
Contact:
David McInnis, Founder and CEO
360-312-0892
UK: +44 (0) 871 720-6397
# # #