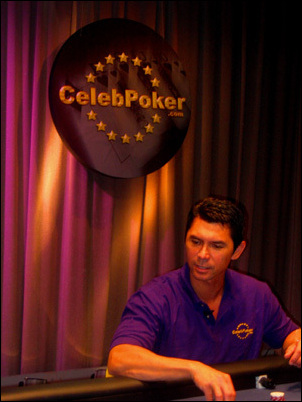 (PRWEB) November 1, 2005
There are poker rooms all over the Internet that will take a bet and watch the players flood the rooms to play the ever popular game Texas Hold'em. While this is the premier entertainment event for over a million people worldwide every night only one site on the Internet is giving players the opportunity to learn the game and skill involved before settling down to wager. That secure, unrivaled poker room is CelebPoker.com.
Starting off early in the game CelebPoker.com quickly became known as "the players' room." The mindset of security and luster passing through the site quickly became a cult phenomenon among poker players worldwide. When a poker site can attract A-List celebrities as well as aspiring poker professionals you have the ingredients for success. What CelebPoker.com has done is unprecedented and unequaled in the realm of online gaming. Providing free tournaments, deposit bonuses and celebrity interaction are three of the hundreds of qualities players have reported as reasons of making CelebPoker.com their home of Hold'em.
In the latest installment of providing customer value CelebPoker.com has upped the ante of innovation by releasing a free "Poker School." Only on CelebPoker.com can you earn your masters in the game of poker. The anticipated poker school has drawn reviews and praise from poker aficionados worldwide. There are weekly poker lessons written by accredited poker pros as well as online masters of the game available completely free visitors. No matter what your skill or involvement level in poker is, CelebPoker.com has technique and positioning for you to hone in on. Besides the pretty faces and aces there are is a world of poker knowledge at your fingertips at CelebPoker.com
This fall of 2005 actor Lou Diamond Phillips (La Bamba, X-Men Legends) has teamed up with CelebPoker.com to provide a free instructional video on how to play Texas Hold'em. Along with an excellent overview of the basics, Lou shares some tips and inside information that has made him one of today's top celebrity poker players. The advice and technique shared in this clip is something that is of value to poker players of all levels. Lou Diamond Phillips is clear and concise when explaining the sequence and variability of the game. He shares his favorite hands, inside play routine and betting strategy. Simple stated, the video is free to poker players as yet another gesture of service from the worlds first interactive poker room, CelebPoker.com
Add this video free to your site.
http://www.celebpoker.com/celebrities/lou/lou_diamond_large.wmv
Enjoy the lesson!
###