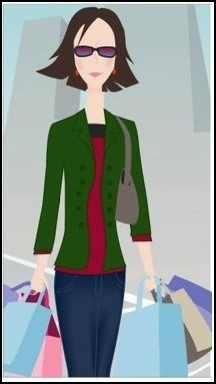 New York, NY (PRWEB) November 2, 2005
Girlawhirl Incorporated, creator of Girlawhirl.com, an innovative website/homepage for women, announces the introduction of the Girlawhirl Handbag. Women across the globe can now get their own virtual Girlawhirl Handbag, where, using free software, they can store personal information: lists, things to do, clothes they've got to have, calendars and gifts to buy. Girlawhirl travels the world and updates Girlawhirl.com daily with tips on beauty products, fashion news, shopping information and other great ideas she finds during her travels. Girlawhirl.com is the destination for women who want to stay on top of the latest trends in fashion, beauty, travel, shopping, restaurants, all the while staying fit and healthy, and keeping her finances, and the rest of her life under control.
Like your favorite fashion accessory, the Girlawhirl Handbag is indispensable. It is the new "It" Bag for the 21st century and beyond. Inside the handbag, there's Girlawhirl's favorite organizational tool, her list program. Manage daily tasks on the 'what's a girl to do' list, with the option to cross off as you get through it. Plan outfits (day and/or evening) for the week using the 'what's a girl to wear' list. And if the week includes travel, one click downloads those outfits into a 'what's a girl to pack' list, then check off a list of essentials that every girl shouldn't leave home without. Travelers also need the 'where's a girl to go' list, to keep track of flights and hotels. Seasonal wardrobe planning can be accomplished on the 'girls gotta have it' list, complete with dates of when she's gotta have it by.
Girlawhirl makes gift-giving easy with the 'what's a girl to give' list, with the option of an email reminder 10 days before the gift is needed. Girlawhirl will even suggest gifts and provide links for quick and easy purchasing! And of course, there's a blank list template, the 'what a girl's got to keep track of' list, so that users can create their own lists, for the grocery store, party planning or whatever they need.
The Girlawhirl Handbag is indispensable freeware for palm pilots®, pda's, pc's or macs. It's free and available to all registered users at Girlawhirl.com. The lists are mobile, and easily sent via email to portable devices, like a BlackBerry®, Sidekick®, or even a cell phone that has the proper technology. So, like a real handbag, the information every girl needs is always at her fingertips. Girlawhirl wouldn't have it any other way.
Girlawhirl is truly every girl's best friend and what better gift can she give all her girls across the globe than a Girlawhirl Handbag? Check in with Girlawhirl at Girlawhirl.com. Sign up once and you're always registered for exclusive Girlawhirl Giveaways.
Contact Info:
Dana Hill
Divine Public Relations
201.342.1868
# # #