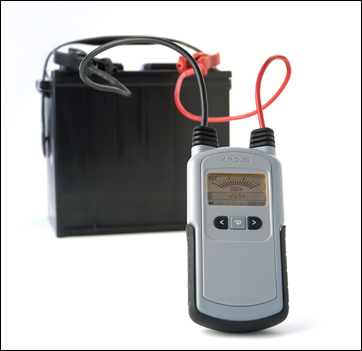 With the AA500, it's now fast and convenient to proactively test the battery of every vehicle that comes into my shop, something I've never been able to do
Jamestown, RI (PRWEB) November 1, 2005
Argus Analyzers http://www.argusanalyzers.com announced today the launch of its AA series, a line of hand-held battery analyzers that delivers the most useful, comprehensive and affordable battery performance information now available to the automotive service and industrial battery service markets. The AA series includes four models starting at $99 which are now available and shipping in the US, Europe and Asia.
According to AAA, battery problems represent the single largest cause of vehicle downtime. With over 230 million private and commercial vehicles on the road in the US alone, the need for fast, accurate and economical battery diagnostics is essential in order to anticipate and avoid battery problems.
In the past, auto technicians have relied on dated technologies, including volt meters and "toaster-style" load testers, which can't perform predictive diagnostics and pose certain safety problems. The electronic testers available until now offer limited technology which has not progressed for over ten years, making the analysis process cumbersome, time-consuming and expensive.
Argus Analyzers' solution—the AA series--is a preventative measure. By making comprehensive battery health information quickly and easily accessible as well as cost effective, auto technicians can now anticipate battery failure - helping valued customers avoid unnecessary auto problems due to dead batteries.
"With the AA500, it's now fast and convenient to proactively test the battery of every vehicle that comes into my shop, something I've never been able to do," commented Bryan Bryer, owner of Central Garage. "In less than 15 seconds, I have enough information to tell my customer it's time to replace the car's battery rather than wait for the battery to fail leaving my customer stranded then forced to find a jumpstart or tow. Argus has come up with a battery testing tool that is affordable enough for me to put in every bay at my garage."
Argus Analyzers' hand-held line employs two patented new test technologies, Crank-CheckTM and High Frequency Impedance, which overcome the critical shortcomings of conventional battery analysis technology.
Crank-Check analyzes the battery's performance during an actual starting sequence, providing
real-time information about the starting capacity of the battery relative to the actual load.
High Frequency Impedance (HFI) technology measures the internal resistance of the battery. It is similar to existing conductance test approaches, with a few important exceptions: the test can be performed while a battery is in use, eliminating the need to effectively take the battery offline to test. The Argus HFI test is faster, and not confused by interference from vehicle or charger systems. Additionally HFI is highly accurate over a large range of battery sizes from 30 CCA to over 2000 CCA.
"Argus' Crank-Check technology provides the most accurate assessment of a battery's cranking health," Bryer continues. "There is just no other product out there that gets me this critical battery performance data. The HFI approach to determining battery capacity is the fastest and most accurate available. The technology is so robust we can test battery capacity without worrying about interference from either the vehicle or charger systems. This saves us time, money and eliminates annoying and costly misdiagnoses. The Argus battery testers provide the information our technicians need to truly understand how a battery is performing so they can make informed and proactive recommendations to their customers. This is a huge improvement over the limited pass/fail results offered by technology in the past."
Argus Analyzers' hand-held line features four models including the AA 200, 300, 400, and 500--starting at $99--for applications ranging from cars, trucks, and boats, to industrial equipment, telecom equipment and electric vehicles.
About Argus Analyzers
Based in Jamestown, Rhode Island, Argus Analyzers http://www.argusanalyzers.com is composed of an innovative team of scientists, engineers, and manufacturing and marketing professionals with extensive experience in battery and power technology. In addition to hand-held battery diagnostic tools for the automotive service and industrial battery service markets, Argus Analyzers offers installed battery monitoring devices for telecom, industrial, automotive, R/V, and marine markets, as well as embedded battery analysis technology for OEM customers. The Argus line of hand-held analyzers is now available and shipping in North America, Europe and Asia.
Contacts:
Elise B. Hamann
EBH Media Relations
ph. 401-884-7976
Andrew Kallfelz
Argus Analyzers
ph. 401-398-2959
# # #