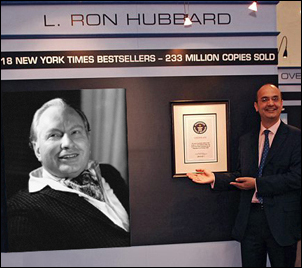 L. Ron Hubbard is a powerful force whose works encompass many fields and genres from Dianetics, his all time bestseller on the mind, to his epic science fiction triumph Battlefield Earth
Los Angeles, CA (PRWEB) November 8, 2005
Guinness World Records has officially recognized L. Ron Hubbard, acclaimed author and the founder of Scientology, as the world's most translated author. This new world record, officially verified as 65 languages, exceeds the previous record of 51 languages set in 1997 by American author Sidney Sheldon. It also tops the unofficial count of 63 for "Harry Potter" novelist J. K. Rowling and the 64 languages translated for "The Diary of a Young Girl" by Dutch teenager Anne Frank.
Guinness, a household name in accrediting and presenting world records, issued its official world record verification certificate that reads: "The most translated author in the world is L. Ron Hubbard (USA). His works have been translated into 65 languages as of October 2005." The certificate was presented to Author Services, Inc., Los Angeles, the literary agency that licenses all of Mr. Hubbard's works internationally. The presentation was made by Alistair Burtenshaw, director of the London Book Fair, one of the world's largest trade book conventions.
"L. Ron Hubbard is a powerful force whose works encompass many fields and genres from Dianetics, his all time bestseller on the mind, to his epic science fiction triumph Battlefield Earth," Burtenshaw said during the presentation.
The languages in which books by L. Ron Hubbard have been translated include Afrikaans, Albanian, Arabic, Armenian, Azeri, Basque, Belo Russian, Bengali, Brazilian, Bulgarian, Chinese, Croatian, Czech, Danish, Dari-Farsi, Dutch, Estonian, Farsi, Finnish, French, Georgian, German, Greek, Hebrew, Hindi, Hungarian, Icelandic, Indonesian, Italian, Japanese, Kannada, Kazakh, Korean, Kyrgyz, Latvian, Lithuanian, Macedonian, Malayalam, Mexican, Mongolian, Nepalese, Norwegian, Polish, Portuguese, Punjabi, Romanian, Russian, Serbian, Sinhalese, Slovak, Slovenian, Spanish, Swahili, Swedish, Tagalog, Taiwanese, Tamil, Thai, Turkish, Ukrainian, Urdu, Uzbek, Vietnamese, Xhosa and Zulu.
"We keep making L. Ron Hubbard's works available to publishers everywhere so we expect to continue breaking this record," said Hugh Wilhere, spokesperson for Author Services. "L. Ron Hubbard's books are bestsellers in many countries and the demand for them keeps growing as word of mouth continues to spread from reader to reader."
With a professional career spanning half a century and with over 200 million of his fiction and non-fiction works in circulation in 156 countries, L. Ron Hubbard, Founder of Dianetics and Scientology, is among the most influential and widely-read authors of our time.
For more information, please contact:
Jason Medeiros
(323) 953-3292
# # #