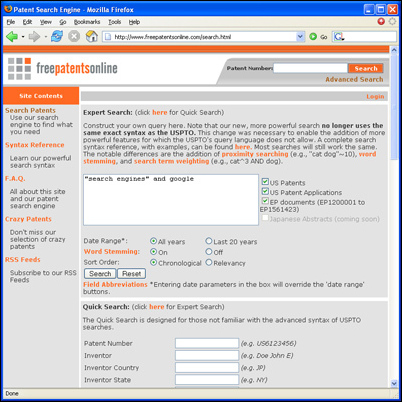 We are committed to advancing the state-of-the-art in patent searching, and to delivering the most value in the industry
Baltimore, MD (PRWEB) November 1, 2005
By announcing free searching of millions of patents and patent applications, and free downloading of patents in PDF format, FreePatentsOnline.com is challenging the notion that such services should be fee-based.
"The fact that companies like Delphion, who are already charging users $95 per month or more to search their database, charge a substantial fee to simply download a patent is ridiculous. FreePatentsOnline.com provides patent searching and downloading for free," says James Ryley, President of FreePatentsOnline.com. Ryley was previously the President of Patent Complete, LLC, a patent searching firm specializing in technology-related inventions.
FreePatentsOnline.com uses a custom patent database that provides powerful searching features such as word stemming, search term weighting, and proximity searching, and allows U.S. patents and patent applications, and European patents to be searched simultaneously. Patent images are available in TIFF or PDF format.
FreePatentsOnline.com also provides account features for the professional patent searcher, including an alert service, portfolios to organize documents, the ability to share portfolios with other users, and the ability to export document data to Excel.
"The interest in the site has been phenomenal. I am extremely pleased that so many attorneys, inventors, scientists, engineers, and other intellectual property experts find our site valuable," states Ryley. "We hope that our services will be particularly useful to small businesses, and will encourage innovation globally by eliminating some of the costs associated with the patenting process."
FreePatentsOnline.com has even more features under development, including searching via latent semantic indexing, and the addition of PCT and Japanese patent documents.
"We are committed to advancing the state-of-the-art in patent searching, and to delivering the most value in the industry," said Ryley.
About FreePatentsOnline.com
FreePatentsOnline.com is a leader in patent searching technology and provides free access to a powerful patent searching database. By providing free access to terabytes of patent information, FreePatentsOnline.com helps businesses lower costs associated with intellectual property. FreePatentsOnline.com also offers custom patent data and patent analytics services. More information is available at http://www.freepatentsonline.com.
Contact:
Erik Reeves, CEO
FreePatentsOnline.com
Phone: (443) 765-9242
Web Site: http://www.freepatentsonline.com
###