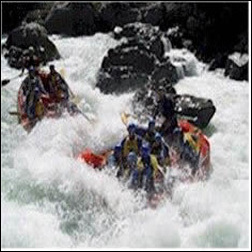 When the lodge was first built almost two decades ago, our clientele was pretty much restricted to New Zealanders who wanted to experience the rush that goes along with shooting the rapids,
Rangitikei District, NZ (PRWEB) November 2, 2005
When it comes to extreme sports, New Zealand's River Valley Lodge is rapidly becoming one of the world's worst kept secrets and for good reason. As a world class, outdoor recreation and sporting destination, it has it all: Grade 5 white water rapids for the extreme sports enthusiast, Grade 2 rapids to accommodate the less adventurous and the feint of heart, bungee jumping, trekking (horseback riding), guided Hikoi walks, inflatable kayaking, multi-day river trips, fly fishing and even golf.
"When the lodge was first built almost two decades ago, our clientele was pretty much restricted to New Zealanders who wanted to experience the rush that goes along with shooting the rapids, " says Brian Megaw, the lodge's co-owner and spokesman. "But as time passed we began to realize that the Rangitikei District had a great deal more to offer so we went into a partnership with the Aorangi Awarua Trust, and other investors to expand our operation, and to set up other activities that we felt would have appeal. Now, I think, we've succeeded in developing a world class, outdoor vacation experience that addresses the needs of most every member of the family."
As one might suspect, white water rafting is by far the lodge's biggest draw. To the north, a 12 km stretch of the river offers 10 major (Grade 4 and 5) rapids as well as numerous lower grade rapids. To the south, clients who wish to have quieter interaction with the natural surroundings can take advantage of a scenic excursion where the rapids never exceed Class 2. Visitors spend about 3 ½ hours on river, with a stopover picnic lunch on the river bank. Weather conditions and time permitting, guides also take visitors on a hike up a side canyon to view the Ohutu Falls, the most reliable and spectacular of the major waterfalls that feed the river.
When vacationers aren't on the river, they spend their days taking advantage of a number of equally enjoyable activities. Equestrians can spend a couple of hours to a full day exploring the area on horseback. Riding trails wind their way through patches of bush, and over New Zealand's central North Island hill country and farmland.
Anglers of all ages look forward to dropping a line to catch their fill of trout. And we're not talking about garden variety brook trout, one is used to catching in the bubbling streams of Montana or the muddy waters of the industrial west, we're talking about catching trout large enough to feed an entire family at one sitting.
Those interested in absorbing nature and learning about the Maori culture can participate in guided walks called Hikoi ki Paerau (a walk into the distance). While hiking trails provide unfettered access to magnificently unspoiled views of the area's mountains, rolling hills and native forest, the insightful and entertaining interaction between guides and clients makes each hike extremely informative, entertaining and memorable. The Hikoi ki Paerau is an experience designed to immersed visitors in both the wonders of the natural world of New Zealand - Aotearoa, and the culture of the Maori. Two hiking options are available: helicopter in/walkout (a far more exotic experience) and walk in/walk out.
And the list of activities goes on from there.
For the golfing enthusiast, there's a nine hole, pitch and putt course. Those interested in kayaking can hop into an inflatable kayak and explore the lower reaches of the River with others having a desire for adventure and a degree of solitude.
For the young and daring, the lodge also offers bungee (bungy) jumping and the Flying Fox. Just down the river from the lodge is Mokai Gravity Canyon, site of the highest night bungee in New Zealand. Whether you call it bungy or bungee, taking a leap with a big rubber band attached to your ankles this has to be one of the more intense of the lodge's activities. A drop of 80 meters, it provides many with an adrenaline rush that lasts a lifetime. The canyon also sports the most extreme Flying Fox in the world - an unforgettable 1000 metre cable rig ride that reaches a reported speed of 160 kmh (100 mph)..
River Valley Lodge itself is like something one might envision in a story book. Nestled quietly on a wooded bank of the Rangitikei, it is easily accessible and yet remote, surrounded by native New Zealand bush including 5,000 hectares (over 12,000 acres) of private Maori land.
Accommodations include dorm, bunk, and double rooms, private cabins with with their own bathrooms, as well as an area for camping. For those wanting to learn more about River Valley Lodge, they can visit the lodge's website where a great deal more information is provided.
The lodge also offers a free newsletter to keep guests and prospective visitors abreast of the latest developments.
Media Contact:
Brian MeGaw
011 64 6 388-1444
# # #