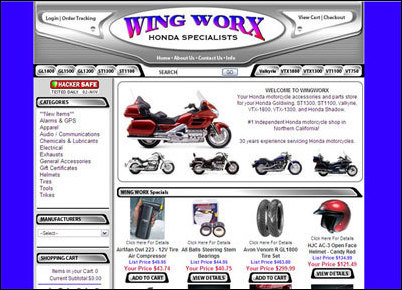 We offer service, parts, and accessories for more than just your daddy's Goldwing
Rancho Cordova, CA (PRWEB) November 7, 2005
Finding accessories for Honda motorcycles online just got a whole lot easier. The owners of http://www.WingWorx.com, the Honda specialists, have expanded and redesigned the site to include more products for Honda Cruisers, such as the Honda VTX-1800 and Honda VTX-1300.
WingWorx.com offers riders a fantastic selection of Honda motorcycle accessories including Goldwing parts, Honda VTX accessories such as Honda VTX chrome parts, and Kuryakyn motorcycle parts. The company also offers discount motorcycle accessories, including apparel, aftermarket chrome, exhaust systems, alarms, GPS equipment, and other items for Honda riders.
The three owners of WingWorx.com are avid Honda riders, giving them a special ability to cater to their customers. "We offer service, parts, and accessories for more than just your daddy's Goldwing," says owner Ray Wooldridge, who was one of Honda's first 100 Senior Master Technicians. "We are Honda riders supporting our fellow Honda riders. We're always looking for ways to make the site more complete and add products that fit our customers' needs."
The redesigned and expanded site at WingWorx.com offers a tremendous opportunity to anyone interested in Honda parts and discount motorcycle accessories. Riders can shop with confidence, knowing that they're buying from avid Honda owners and riders with more than thirty years' experience servicing Honda motorcycles.
One of the best features of WingWorx.com is the company's commitment to customer service. The owners share a vision that customers should be treated as well as the owners would want to be treated. Finding discount motorcycle accessories is easy at WingWorx.com because customers can maneuver through the site by manufacturer or by product category. Honda Goldwing accessories and Honda VTX parts and accessories are some of the most popular items offered.
WingWorx.com also works hard to outfit the whole rider, so the inventory of Honda motorcycle accessories includes helmets, gloves, jackets, t-shirts and other clothing and protective items. The site offers everything that Honda riders need to personalize their bikes and give them the customized ride that they've dreamed of for years.
About WingWorx.com:
WingWorx.com is owned by Honda riders Ray Wooldridge, Robert Harris, and Vasilios Kalaitzidis. The Wing Worx facility just east of Sacramento, California, off of Highway 50, is the #1 independent Honda motorcycle shop in Northern California.
###