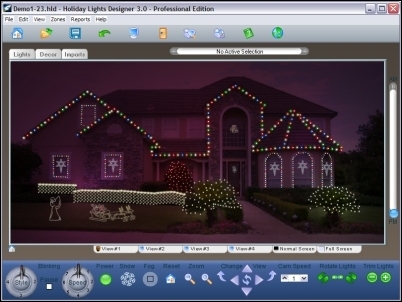 Orlando, FL (PRWEB) November 8, 2005
Software development company Holidaysoft™ announces the release of Holiday Lights Designer™, a new software solution for holiday decoration and holiday lights designing. Holiday Lights Designer allows users to preview different concepts on their computer by placing virtual holiday light designs and decorations on digital images of their home or business. Techliving.com stated, "It's best to start with a plan, and for that we turn to Holiday Lights Designer."
"Every year people spend time and money planning their holiday light displays," explained Holidaysoft President Michael Collins. "People who want to visualize their display before buying lights and holiday decorations can now turn to Holidaysoft."
The major update to Holiday Lights Designer features many new upgrades that allow for rapid and realistic decorating. Users can quickly create basic designs or choose more complex four-sided designs using holiday decorations for the included product libraries or import their own. The software offers several different lighting choices, including C9, C7, Mini, Net and Icicle lights.
Customizable options, such as color patterns and bulb spacing, as well as fog and snow effects, add to Holiday Lights Designer's realistic holiday decoration and design capabilities. New features also include 3D bulbs, point-to-point auto-fill decorating, project reports, design exporting, automatic day-night lighting control, custom bulb spacing and color patterns, ambient lighting and blinking effects.
The cost for Holiday Lights Designer™ software for Windows® is $29.95. More information is available on the Holidaysoft website at http://www.holidaysoft.com.
About Holidaysoft™, LLC
Holidaysoft™, LLC. a privately held company based in Orlando, Florida, develops innovative holiday decor software products for customers all over the world, ranging from enterprises to small businesses and home users. Founded in 2002, the company provides best-of-breed software solutions that simulate holiday- and Christmas-themed lighting and display designs. Holidaysoft™ has received many positive reviews and recommendations by respected third-party media and product reviewers.
For more information about Holidaysoft's holiday decoration software Holiday Lights Designer, visit http://www.holidaysoft.com.
Media Contact:
Michael Collins
321-217-8662
# # #