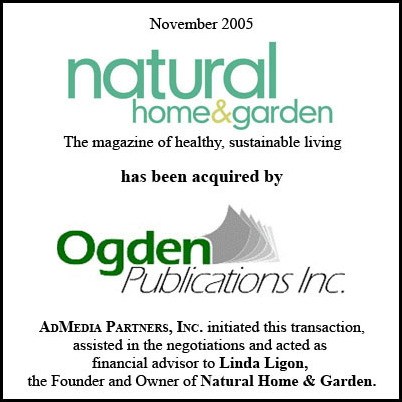 New York, NY (PRWEB) November 4, 2005
Ogden Publications, the publishers of Mother Earth News, today announced the acquisition of Natural Home and Garden magazine, which is published for people with a special interest in natural products and green living. AdMedia Partners, a middle market investment bank in New York, represented the seller of Natural Home and Garden magazine, Linda Ligon.
Ms. Ligon, a magazine entrepreneur, recently sold another publishing venture, Interweave Press, to Aspire Media. AdMedia Partners, which specializes in mergers and acquisitions advisory services to the media, marketing communications, interactive and information services industries, represented Ms. Ligon in that sale, as well.
The decided shift of the US population toward environmentally conscious lifestyles has created a new and growing market of educated, eco-savvy consumers who value green living, seek out natural products and look to create a sustainable economy. Natural Home and Garden magazine offers this group the information they need to practice a lifestyle that is more sustainable than conventional practices. The bi-monthly magazine and dynamic website feature information on home design, earth-friendly décor and natural living.
Natural Home and Garden magazine was founded by Interweave Press CEO Linda Ligon in 1999. The magazine was first published as Natural Home in May of that year and relaunched as Natural Home and Garden in the Spring of 2005. Robyn Griggs Lawrence is the current editor-in-chief and will continue with this position.
The magazine is a natural fit with other Ogden Publications and it will provide a new connection for its audience of people who enjoy healthy and eco-conscious lifestyles. Ogden Publications publishes magazine and books for people interested in self-sufficiency, sustainability, rural lifestyles and farm memorabilia. Located in Topeka, Kansas, the private company also owns a newspaper unit and provides financial services and insurance to its readers through its Capper's Insurance Service. Titles currently published by the Company include Mother Earth News, Farm Collector, Good Things to Eat and Herbs for Health, among others.
About AdMedia Partners
AdMedia Partners (http://www.AdMediaPartners.com) is a leading boutique investment bank that provides middle market mergers and acquisitions advisory services to advertising and marketing services, media and publishing, and related internet businesses. Founded in 1990 and located in New York City, the firm has completed over 100 transactions since 1999.
Transactions completed by AdMedia Partners in the last five months include:
Representing Federalist Group, a Washington, DC based government relations firm, in its acquisition by Ogilvy Public Relations Worldwide, a unit of WPP Group.
Representing Grupo Editorial Expansión, Mexico's second largest magazine publisher, in its acquisition by Time Inc., a subsidiary of Time Warner.
Representing Gruner+Jahr USA in its sale of Inc. magazine and Fast Company magazines to Mansueto Ventures LLC.
Representing Dynamic Logic, the leading independent marketing research company, in its acquisition by Millward Brown, a unit of WPP Group.
Representing Taylor Rafferty, an independent global investor relations and financial communications advisor, in its sale to Xinhua Finance, China's premier financial services and media company.
Representing Interweave Press in its acquisition by Aspire Media, a newly formed magazine entity backed by private equity firms Frontenac Company and Catalyst Investors LP.
For more information, contact:
Mark Edmiston
Managing Director, AdMedia Partners
Phone: 212-759-1870
Polly Perkins
Business Development Director, AdMedia Partners
Phone: 212-759-1870
Jay Kirsch
Vice President, AdMedia Partners
Phone: 212-759-1870
AdMedia Partners
444 Madison Ave., 19th Floor
New York, NY 10022
# # #