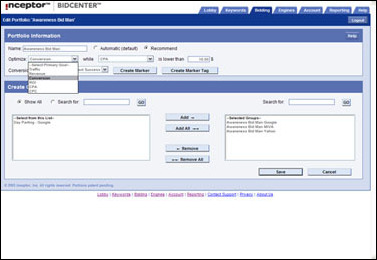 Maynard, MA (PRWEB) November 7, 2005
Inceptor, a leading search engine marketing company, and Sane Solutions, a leading Web analytics firm, today announced that they have teamed up to co-market Inceptor's BidCenter™ pay-per-click bid management system with Sane's NetTracker line of Web analytics software. This will enable their customers to manage volumes of keywords and analyze ad campaigns using compatible best-of-breed technologies, ensuring that they can bid on the best keywords at the best time for the best ROI by analyzing response to keyword ads.
The companies also intend to tightly integrate their technologies, which will let search engine marketers to better control their keyword bidding by analyzing the success of these keywords with the behavior it triggered from customers visiting a Web site. The analytic capabilities will let users, for example, link the purchase of specific keywords to specific products purchased on a retailer's Web site.
BidCenter is the industry's first portfolio-based self-service pay-per-click bid management tool that automates the complex keyword bidding process. It's based on a patent-pending mutual fund optimization technique – called "Portfolio Optimizer" – that helps marketers fine-tune bids to get the best possible advertising rates and returns from search engines such as Google AdWords and Yahoo! Search Marketing. BidCenter employs optimization techniques similar to those that professional money managers use to optimize mutual funds. Search engine advertisers create groups of keywords in BidCenter and allow Portfolio Optimizer to determine individual bids to meet a business goal.
"The problem with so-called Web marketing suites is that they are a Jack-of-all-trades solution; not particularly cutting-edge in their analytics, bid management or any of the other applications that they bundle together," said Vic Odryna, CEO of Inceptor. "With pay-per-click advertisers expected to spend over $6 billion on highly volatile and unpredictable search advertising this year, companies need the best tools available to beat competitors. NetTracker wedded to BidCenter will offer companies the industry's best-of-breed Web analytics and bid management applications in a tightly integrated environment."
Sane Solutions' NetTracker Web analytics software solutions are used by over 10,000 companies worldwide to analyze and optimize their online channels – Internet, intranet and extranet sites. NetTracker is considered the most flexible, comprehensive, and accurate world-class line of Web analytics solutions available.
"Analyzing the success of keyword campaigns in relation to their investment lets marketers make smart bidding decisions based on metrics such as revenue-generated, campaign conversion, and ROI," said Jim Rose, Sane Solutions' CEO. "Sane Solutions carefully evaluated which bid management technologies could best complement our NetTracker Web analytics solution. It was clear BidCenter's unique portfolio-based approach PPC bid management would enable our customers to glean the most value from our analytic platform."
About Sane Solutions
NetTracker products are used by 10,000 organizations worldwide including: American Honda Motor Co., Inc., GEICO Direct, NASA, HBO, Old Mutual, Best Buy, and more. Sane Solutions' strategic partners include Best Software (SalesLogix), Business Objects, Cognos, Hewlett-Packard, IBM, Microsoft, MicroStrategy, Oracle, and more.
Sane Solutions, LLC, is a privately held limited liability company located in North Kingstown, Rhode Island. For more information, please contact Sane Solutions LLC, 35 Belver Ave., North Kingstown, RI 02852; tel. 1-800-407-3570 or 401-295-4809; http://www.sane.com.
About Inceptor
Inceptor is a privately held company founded in 1999. The search engine marketing company is currently a leader in the search engine optimization and pay-per-click advertising search engine marketing field.
Inceptor has developed a patent-pending proprietary PPC bid management system that automatically optimizes an advertiser's bids based on desired performance objectives. Based outside of Boston, MA, Inceptor currently has approximately 50 employees and serves over 4,000 customers including Home Shopping Network, Thomas Register, Lawyers.com, Vermont Country Store and CVS.com.
# # #