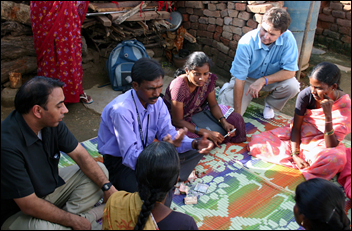 Redmond, WA (PRWEB) November 5, 2005
Unitus microfinance institution (MFI) partner SKS Microfinance (SKS), one of the world's fastest growing MFIs, recently announced that it won Grameen Foundation USA's Excellence Award for bringing industry-leading financial services to poor families in India. Unitus is a key supporter of SKS and provides them with significant financial and capacity-building assistance.
The award recognizes SKS's overall success in delivering microfinance services to the poor and for its contributions to the entire microfinance industry. Over the last seven years, SKS has served thousands of poor, low-caste women in India's drought-prone Deccan Region, disbursing over $36 million in microcredit loans with a 99 percent on-time repayment rate.
SKS has grown rapidly since partnering with Unitus in March 2003, from approximately 13,000 clients to more than 130,000 clients. Unitus has played an important role in strengthening SKS's relationships with Indian banks and securing interest rates for commercial debt far below the industry norm. In addition, Unitus helped SKS transform into a Non-Banking Finance Company (NBFC) regulated by the Reserve Bank of India (RBI), enabling SKS to raise millions of dollars in equity and in turn expand its operations dramatically.
"We're delighted to be the recipient of Grameen Foundation USA's Excellence Award," said SKS Founder and CEO, Vikram Akula. "It is wonderful to be recognized for our hard work and continuing efforts to lead the microfinance industry in innovation, operational efficiency and overall outreach. With ongoing capital and capacity-building support from Unitus, we're on track to reach our target of 1 million clients by 2010."
About SKS Microfinance Private Limited (SKS)
Founded in 1998, SKS Microfinance is one of the fastest growing microfinance organizations in the world, having provided over $36 million in microcredit to more than 130,000 women clients in one of the poorest parts of India, the drought-prone Deccan region. In the last year alone, SKS Microfinance grew by nearly 300 percent, with a current portfolio of $14 million and a 99% on-time repayment rate. SKS currently has 42 branches and over 400 employees in three and will open in two new states (Orissa and Madhya Pradesh) by the end of the year. In addition to rapid expansion, SKS leads the industry in technology development and innovation. It is one of the first MFIs to have a fully-automated management information system. SKS also has pioneered the use of Smart-Card technology at the village level and is currently working with VISA International on a pilot project to develop and deploy wireless POS devices that would automate field operations and significantly reduce transaction costs. Through this, and other innovative projects, SKS is aggressively looking for additional ways to empower the rural poor within India while remaining economically self-sufficient. For more information about SKS Microfinance, please visit: http://www.sksindia.com
About Unitus
Unitus is a global microfinance accelerator that acts as a social venture capital investor for the microfinance industry. Unitus identifies the highest-potential microfinance institutions (MFIs) in developing countries and helps accelerate their growth through capital investments and capacity-building consulting, thus empowering them to help exponentially more poor people worldwide. In doing so, Unitus aims to demonstrate that MFIs can be run as profitable, large-scale, poverty-focused businesses with links to local capital markets. As of September 2005, Unitus had seven MFI partners worldwide serving more than 475,000 poor clients. Based in Redmond, Washington, USA, and with an office in Bangalore, India, Unitus relies on innovative financial instruments, and the financial resources of like-minded individuals and foundations, to fulfill its mission. For more information about Unitus, please visit: http://www.unitus.com
About the Unitus-ACCION Alliance for India
Unitus and ACCION International, two of the world's leading microfinance organizations, have together created the Unitus-ACCION Alliance for India. This strategic partnership, thought to be the first of its kind, is designed to catalyze the creation of a countrywide microfinance industry in India, comprised of large-scale, profitable, poverty-focused microfinance institutions (MFIs). ACCION will leverage its expertise to assist commercial entities (e.g., banks and finance companies) in moving 'down-market' into microfinance, while Unitus will concentrate on accelerating the growth of nonprofit/non-government organization MFIs, transforming them into regulated, for-profit financial institutions and connecting them to local capital markets. The Alliance has established as its goal the delivery of microfinance services to 15 million of India's under-privileged by 2015. Unitus and ACCION recently co-located in the India Microfinance Center in Bangalore, from which the Alliance will coordinate its work with high-potential MFIs throughout India.
Media Contacts:
Robert Lowry
PR Associate
Unitus
Ph: +1 425-881-2574
Christopher Turillo
Communications Manager
SKS Microfinance
Ph: +91-4023298131
###