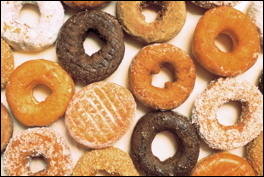 (PRWEB) November 8, 2005
Is it true that there are no "bad" foods for you if you only eat then in moderation? Wellness and health expert, Dr. Joseph Mercola is the founder of mercola.com the second most visited non-government health site after WebMD, doesn't believe so.
Not only are the following foods virtually nutritional worthless, but they also load your body with anti-nutrients designed to accelerate the aging process, which should make the idea of eating them really hard to swallow.
1. Fried Foods and Doughnuts
Fried foods lead the list because healthy fats are key to your health and when they are heated they convert to dangerous trans fat and other even more toxic and damaged molecules. When heated the easily damaged fat bonds are converted to cyclized, cross-linked, fragmented and polymerized substances which increase your risk of cancer and nearly every chronic degenerative disease known to man.
Doughnuts are one of the worse fried foods as most commercial doughnuts have over 35-40 percent trans fat. They are also loaded with simple carbs like sugar and white flour that have been well documented to increase your insulin levels and secondarily increase your risk of cancer, heart disease and metabolic syndrome.
2. Regular and Diet Soda
Following close behind fried foods are all sodas. The average Americans drinks nearly 60 gallons of soda every year and doesn't realize that one can of non-artificial soda has about 10 teaspoons of sugar, 150 calories, 30 to 55 mg of caffeine, and is loaded with artificial food colors and sulphites. The artificially sweetened varieties are also problematic as they are filled with harmful artificial sweeteners like aspartame and Splenda.
Fortunately if you routinely drink soda--regular or diet--eliminating it from your diet is one of the simplest and most profound health improvements you can make. There are simple energy psychology taping techniques that dramatically reduce your addictive cravings.
3. Potato Chips and French Fries
Potatoes are bad enough when consumed in their raw state, as their simple sugars are rapidly converted to glucose that raises insulin levels, but when they are deep fried in oil they are converted to one of the worst foods you can eat. Unfortunately the average American is eating three orders of fries a week.
As with doughnuts a variety of dangerous fat products are produced, researchers have recently documented that potent cancer-causing and neurotoxic substances like acrylamide. Dr. Mercola has taken the unconventional position that eating one French fry actually is worse for your health than smoking one cigarette.
4. Fried Seafood
Although fish are high in beneficial essential omega-3 fats they are also typically loaded with toxins like mercury, PCBs, and dioxins. Forty tons of mercury are released into the air every year in the US which tends to contaminate many of the larger fattier fish. When these fish are fried as they typically are the toxic synergy jumps this food into the top five worst foods you can eat.
5. Sugar
Two thirds of Americans are overweight and the average American is now consuming over 175 pounds of sugar per year. Most of this is from high fructose corn syrup that is one of the leading causes of obesity and chronic illness. As bad as sugar is though it is far worse when consumed with heated oils as in baked pastry goods, which is why doughnuts lead the worst foods list.
What Foods Are Good For You?
While there are foods that are typically good for everyone like healthy fish and cod liver oil and fresh organic vegetables, we all have individual biochemical differences. Dr. Mercola is a New York Time best selling author and has put together a free online test that will help you determine which foods you are genetically designed to eat. The test link is on the top left of the page at http://www.mercola.com.
###