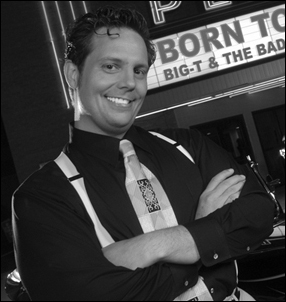 Dallas, Texas (PRWEB) November 7, 2005
Craig Thompson, better known as 'Big-T,' has a reputation for doing things in a mighty big way. The former sumo wrestler who used to tip the scales at 400 pounds has since reinvented himself as a singer and bandleader, and performs across the globe in support of his critically acclaimed CD, Born to be Wild, available at CDbaby. But Thompson hasn't forgotten the surgical miracle that gave him a second chance at life. Today, he is reaching out to others who have had gastric bypass surgery with the launch of his new Website, http://www.RenewedReflections.com.
Like many gastric bypass surgery patients, Thompson had been overweight most of his life. He found his size worked to his advantage when he became an amateur sumo wrestler in Japan while in the Navy. But, when he returned to the United States, the extra pounds were not only a burden, but also posed a serious health risk. He found his salvation in gastric bypass surgery and shed nearly 200 pounds in a year's time. For Thompson, the physical change helped give him the courage to pursue his lifelong dream of becoming a big band singer. He has since built a successful career on three continents and even performed in London at Queen Elizabeth's Golden Jubilee. Now, he has created a new Website, http://www.RenewedReflections.com, offering information and encouragement to other weight loss surgery patients, many of whom suffer from problems like depression and addiction transference after surgery.
Thompson dropped from a waist size of 56 inches to just 34 inches in one year after having gastric bypass surgery in 1997. But the changes to his body didn't address the underlying issues that had led to him to gain weight in the first place. The biggest challenge after surgery was not cutting back on food or increasing his physical activity, but rather the lack of mental and emotional support available to weight loss patients, he says. Because gastric bypass surgery was still a new procedure, there were no support groups or help centers for people who had undergone the treatment. But, without the benefit of insight on the psychological repercussions, patients often fall into other addictive habits, experience problems in their family relationships, and even become suicidal.
Thompson is uniquely qualified to offer insight and guidance for gastric bypass patients based on the length of his success. He had weight loss surgery nearly two years before Carnie Wilson of the pop group Wilson Phillips, and has maintained his current weight for nearly nine years. In addition to his new Website, Thompson speaks to gastric bypass support groups and is also working on a self-help book for people who have had weight loss surgery.
Read reviews and hear song samples from Craig Thompson's band, Big-T and the Bada Bings, at CDbaby.
###