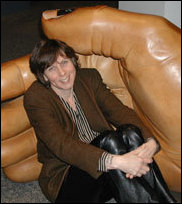 I knew Jude Nutter's poems would be our first-prize winners as soon as I read them. Her elegiac verses brim with tenderness and insight, offering hope to heal war's scars.
Northampton, MA (PRWEB) November 15, 2005
Winning Writers is pleased to announce the results from its fourth annual War Poetry Contest. Jude Nutter of Edina, MN won first prize and $1,500 for her poems, "Infidelity", "For Those Held Captive for Decades in Darkness" and "The Map".
1,036 entries were received from around the world. They were judged by Jendi Reiter, award-winning poet and author of A Talent for Sadness. Ms. Reiter comments, "I knew Jude Nutter's poems would be our first-prize winners as soon as I read them. Her elegiac verses brim with tenderness and insight, offering hope to heal war's scars."
Mr. T.P. Perrin of Binghamton, NY won second prize and $500 for "McVay" and "Thersites". Dr. Alan Farrell of Glasgow, VA won $250 for "Martyrdom of a Mutt". Ten honorable mention awards of $75 were also made, bringing the total awards to $3,000. All the winning entries are published at http://www.winningwriters.com/contests/war/2005/wa05_pastwinners.php
We present here "Infidelity", part of Jude Nutter's first-prize entry:
INFIDELITY
by Jude Nutter
...After the first death there is no other.
—Dylan Thomas
When the hawk slaked down into the garden and entered
the chittering bud of linnets and sparrows
feeding on the bread crumbs and stale cereal, you
were telling me the story
of how you took it upon yourself to bury, as you would
in the weeks to come most of your own platoon, the young
German—the first man you ever killed—
shot on the concrete forecourt of a textile factory
in Belgium. At close range. With a single bullet.
I need to believe you spent the war
safe from yourself, in reserve, your rifle clean
and unfired; that you woke each morning
alone and hard in your own hand. But the tautness
of his skin dropped away like a sail losing the wind and the wet
purse of his mouth went slack and eased open
to reveal its neat, stained wreaths of change.
After the first death there were many others and they all
rose up through this one. Out in the garden the hawk
rowed up from the earth with its burden, leaving
a panic the colour of ashes and bone. A slim warmth
was caught in the fabric of his battle dress, there were twigs
and feathers of grass in his hair; and when you dragged
him the dark palm of the earth snagged
him by the heels and eased his boots off. But you were tired
and the grave so shallow and small his knees rose up
through the dirt. To shovel soil across his face, you said, dead
as he was, to throw dirt into the gape of his mouth and over
the pale noose of each iris was an act of infidelity
against your own humanity far worse
than squeezing the trigger. That night, laid out
beneath the empty looms of the factory, you dreamt
about that grave at the edge of the wood from which the knees
of a dead man rose like breasts through the dirt and when dawn
came you were ravenous for a woman. Not sex,
but the easy kindness that stands in attendance
whenever women are present. You are married, you said,
to the first man you ever kill, and then you went outside
to gather even the smallest feathers that had drifted
and caught against the hedge. Still, after sixty years,
the terrible competency of your hands. You spaced
those small feathers widely, like seeds, in the wet soil
and were down on your knees so long the mist and the sea fret
stashed their silver among the fine hairs of your jacket.
A man, however well he lives, never lives
his life well enough to justify the harm he commits
with his own hands: he bent at the knees so slowly, you said,
then folded forward gently, with a sigh, like a woman's dress.
Copyright 2005 by Jude Nutter
About the War Poetry Contest
The War Poetry Contest is sponsored by Winning Writers. It seeks original, unpublished poems on the theme of war. Contestants are asked to submit 1-3 poems, up to 500 lines in all. Submissions for the 2006 contest are accepted from December 1, 2005 through May 31, 2006. Entries are accepted online and by mail. The entry fee is $12. For more information, please see http://www.winningwriters.com/contests/war/wa_guidelines.php
Please feel free to request additional information, to request permission to reprint poems, or to make arrangements for interviews with the contest winners.
About Winning Writers, Inc.
Winning Writers is today's leading source for poetry contest information. We have been selected as one of the "101 Best Web Sites for Writers" by Writer's Digest (2005). Our online database, Poetry Contest Insider, ranks and profiles over 750 poetry contests. Our free email newsletter offers news about quality free poetry contests and literary resources. Winning Writers sponsors the annual War Poetry Contest and the annual Wergle Flomp Humor Poetry Contest.
Winning Writers was founded in 2001 by Jendi Reiter and Adam Cohen. Learn more at http://www.winningwriters.com/index.php
# # #