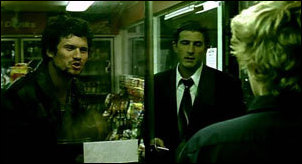 Lehigh Valley, PA (PRWEB) November 8, 2005
The Haydenfilms Online Film Festival is pleased to announce their top four finalists for Season One, competing to win the $10,000 grand prize at our awards ceremony in December of 2005. The online community selected the finalists from the thirty-six films
participating in the festival, which ran August 30 through October 30, 2005, via an online voting system created for the festival.
The finalists in alphabetical order are: "Fortunate Son" submitted by Quinn Saunders; "I Killed Zoe Day" submitted by Powell Weaver; "Life or Breath" submitted by Steve Desmond; and "Smartcard" submitted by James Oxford. While the winning film will receive the grand prize, the other finalists will receive prize packages contributed by sponsors such as Write Brothers, CMP Books, and Akimbo. These four films will also be showcased at Haydenfilms.com through August 29, 2006. Season Two of the Haydenfilms Online Film Festival begins August 30, 2006.
Finalists for the festival submitted short films no longer than thirty minutes to be reviewed by a unique, professional judging panel consisting of eight national media professors and film industry experts. Each judge viewed and voted on the films, and the top thirty-six films were made available for online member voting during the festival period.
Haydenfilms.com was among the first solely online film festivals, beginning in October 2004 as a way for independent filmmakers to showcase their works to the online community. Of the various online film festivals, they were the first to accept all short films regardless of genre, and the first to offer a $10,000 cash prize to the winning filmmaker. Submissions were accepted until July 15, 2005, and included a wide variety of films, ranging from student submissions, animation, and documentary formats.
The Online Film Festival is just one component of Haydenfilms.com, which is quickly becoming known as the premier online resource for independent filmmakers. In addition to the Festival, the website offers its members industry news, job and resume posting, message boards, and shopping for filmmaking software and equipment.
For more information on the Festival, please visit http://www.haydenfilms.com, or contact Haydenfilms LLC at 610-894-9639.
# # #