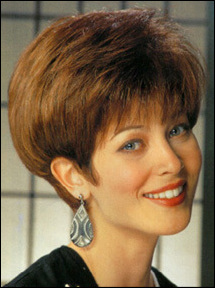 a short, softly tapered style made of
New York, NY (PRWEB) November 15, 2005
Vacations during the holiday season or any part of the year is when you want to relax and think about having a good time, away from work and other stressful activities. However, since vacations are about fun as well as relaxation, you'll still want to look as good as you possibly can, without spending time fussing with your hair.
"It's easy, with the help of a Jacquelyn wig or other hair alternative," advises George Mayer, President." "Jacquelyn wigs provide the perfect solution for anyone who wants to look great, no matter where she is. "She can choose from thousands of styles made of various hair materials including 100% European Texture Human Hair; Hairlife®, a blend of synthetic and human hair, and the ultimate easy-to-wear Advanced Elura® Synthetic. (All styles can be seen at http://www.jacquelynwigs.com or http://www.bestwigs.com)
"A perfect choice would for a vacation can be "Mandy" a short, softly tapered style made of "wash 'n wear" Advanced Elura® Synthetic that not only retains its style no matter how it's packed (or crushed in a suitcase) but is always a welcome addition to a fashionable hair accessory wardrobe. "Mandy" is especially adaptable to any occasion, whether for a sightseeing tour or a glamorous night out on the town.
The following tips from the Jacquelyn experts can help you make the right decision in choosing how to buy the perfect hairpiece for your vacation (or all year-round) needs:
What is the Difference Between the Various Fibers?
1) Elura® Synthetic needs no major styling changes as do other HairWear materials. Generally, the least expensive of all hairpieces, a synthetic wig works best if you want to as a hairpiece that needs minimum care for a quick change of hairstyle for every day or packed in a suitcase for carefree travel. Wearing an Elura® Hairpiece is as easy as slipping on a dress –run your fingers through it, spray with liquid mousse and you 're ready to go dancing. A little touch up with a brush or comb will make you look as though you spent hours at the hair salon.
2) 100% all Human Hair is recommended when HairWear is to be worn every day, or even very often. All human hair HairWear is the most expensive choice, but will give you many more years of satisfying wear.
3) Hairlife®, a blend of human hair and synthetics, offers the best of both worlds, combining the easy care of synthetics with the natural appearance and styling versatility of human hair and at less cost than 100% all human hair
Assure a Comfortable Fit.
Make sure the wig or hairpiece is as comfortable as your own hair.
Comfort begins with a good fit. A lesser quality wig is usually made with a cheap heavy base and will feel like a tight helmet on your head. All good wigs today are made with a "capless" construction, virtually guaranteeing a truly comfortable fit.
Unless you're going to a costume ball, you probably don't want the world to know that you're wearing a wig or hairpiece, so get one that looks like your own hair, matching color and style.
Purchase your HairWear from a reliable source with HairWear specialists who have the experience and knowledge to help you make the right choice. If you do purchase one from a mail order house as many people do, follow up with a visit to a good hairstylist who will shape and style the hairpiece so that it looks and fits just perfectly. Remember, even if you get the best hairpiece in the world, it can look "wiggy" if it's not shaped properly to suit your face.
To maintain your hairpiece, make sure you wash it after 12-15 wearings in the summer, and 6-8 wearings in cooler weather. Remember, Synthetic wigs need no restyling even after washing as it will always fall back into its original style. Spray on conditioner once or twice a week. to maintain luster. For a free catalog of the latest Jacquelyn Collection, please contact (800) 272-2424.
Elinor Ruskin
Ruskin Comunications, Inc.
300 East 40 Street
New York, NY 10016
P) 212-687-4975
f) 718-874-2066
cell: 917-582-4975
lrprnyc.com
# # #