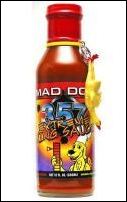 World's hottest hot sauce
Sudbury, MA (PRWEB) November 11, 2005
Ashley Foods, maker of 357 Mad Dog Collector's Edition hot sauce, "World's hottest hot sauce" responds to demands for a volcanic wing sauce with 357 Extreme Wing sauce, "World's hottest wing sauce". Not for Lily-livered chickens! It possesses EXTREME HEAT from Hell but also EXTREME TASTE, an orgasm for your mouth that will wing you to Heaven, with dynamic Chipotle Chile peppers, smooooth butter flavour, mellow beer buds, aged red peppers and garlic. The explosive heat and fireball of flavour produce monster taste, real taste - not that vinegar-y bite in common wing sauces. The ingredients are fresh, natural and preservative-free.
Pepper heat is measured in units called Scovilles that produce a range of heat sensation from pleasure to pain, depending upon the amount used in the product. 357 Extreme Wing Sauce uses 2,000,000 (yes, two million!) Scoville units of extract per bottle. However, the user can totally personalize this sauce for an awesome heat pleasure, either savage or tame. The wildest heat-freaks can blow the top of their heads off by blathering it on meats and wings (and slurping their fingers clean!), while pussies can wimp it down by adding it, per taste, to favorite sauces and marinades. Either way, everyone can indulge to their heart's content, in this daring twist for savouries, appys and dips. Perfect for Holiday recipes and entertaining. Be sure you invite a fire fighter, or at least have a fire extinguisher handy….
357 Extreme Wing Sauce is hand crafted in small batches - Ashley Foods is mad about EXTREME QUALITY. Orders for this sauce piled up even as the sauce was still in exacting development. A prominent Boston restaurateur describes it as "Wing-suckin' delicious", a gorgeous vermillion color, silky smooth in texture – the only wing sauce out there that provides this quality of heat along with this quality of flavor. It comes in a kickin' bottle with a rubber chicken key chain - flash it proudly as your badge of courage! 357 Extreme Wing Sauce is a cool collectable for chili-heads, an unexpected hoot of a holiday gift for anyone, including yourself!
Award-winning Ashley Foods also makes the popular MAD DOG BBQ sauces, MAD CAT Habanero, SPICY TERIYAKI, GREEN AMIGO, IDIOT BOYZ and others. 357 EXTREME WING SAUCE will soon be alighting in stores offering superior sauces, and available for internet ordering. http://www.ashleyfood.com. Suggested retail - $8.00 12 fl. oz. bottle.
###