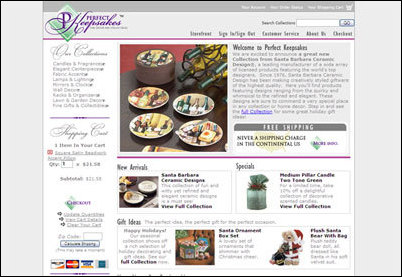 Bonham, TX (PRWEB) November 11, 2005
Now you can find unique, individually selected accessories and gift items on the Internet. Perfect Keepsakes, Inc has completely redesigned its online business to offer you the ultimate in convenience, secure shopping, and selection.
http://www.PerfectKeepsakes.com brings you the best in home decorating accessories, garden yard decor, specialty gift items, and collectibles. For interior decorating, the extensive collection includes scented jar candles, decorative wall clocks and mirrors, unique picture frames, home accent furnishings, and decorative vases. For the outdoors, the site's lawn and garden decor includes wooden bird houses, unique wind chimes, statues, and other items specially selected by the store's owners, Bill and Michele Broughton.
"Comfort and convenience, safety and security, variety and flexibility, fairness and integrity in every transaction: these are the objectives and principles that form the foundation upon which Perfect Keepsakes was created and upon which we operate every day," said Michele Broughton, co-owner of the business. The Broughtons are committed to providing top-shelf service to every customer no matter how small or large the purchase may be.
One of the best features of PerfectKeepsakes.com is that it is extremely easy to navigate. The homepage provides updated links to seasonal gift ideas, garden yard decor, and current special offerings, so you'll always find something fresh and exciting. The entire site is designed to make shopping easy, convenient, and fun. In addition, the shop offers great value because there is no charge for standard shipping in the contiguous United States, and the company stands behind its 100% customer satisfaction money-back guarantee.
Online shoppers will love browsing the broad selection of home decorating accessories, garden yard decor, and collectibles such as spun glass figurines, African decor, and specialty gift items. PerfectKeepsakes.com also offers a rich selection of gift ideas such as baby picture frames, decorative wall clock choices, and crystal and glass figurines. This makes the site perfect for anyone looking for unique and tasteful gift ideas.
Perfect Keepsakes has reinvented itself with the launch of its completely new Web store, now available. Shoppers will find the site easy to navigate and will experience the company's focus on total customer satisfaction.
About Perfect Keepsakes:
Perfect Keepsakes is a family-owned and family-operated business intensely committed to presenting a high-quality product line and making online shopping simple and stress free. The new Web store can be found at PerfectKeepsakes.com.
###