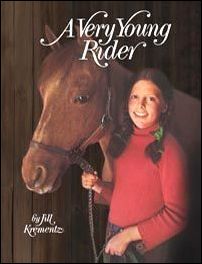 creatively produced books; works that make a difference.
(PRWEB) November 10, 2005
"A Very Young Rider" by Jill Krementz, a classic children's book, has been reprinted for a new generation of equestrians to fall in love with and an older generation to love again.
Originally published in 1977, thousands of American girls and boys grew up following the story of Vivi Malloy, her pony Ready Penny, and their family and friends in the horse show world. Blending words and photographs in this children's book, Ms. Krementz takes readers into the world of a young equestrian and her pony. Readers come to share the dreams and realities of a 10-year-old whose life is passionately taken up with horseback riding and with her love of horses. Entertaining and inspirational, the lessons of responsibility, courage, dedication and growth remain relevant today and the storyline is timeless.
With a foreword by George Morris, the legendary equestrian trainer and Chef d'Equipe of the winning U.S. Equestrian Team, "A Very Young Rider" has a natural appeal for all who love horses and riding or simply the dream of horseback riding. Adults who read the children's book when they were young will be excited to learn that in the new edition, DreamHouse Publishing has included an article on the Malloy family's lives after the book was originally published.
Since writing "A Very Young Rider," Ms. Krementz has gone on to have a noted career. The publication of 19 children's books has established her reputation as a writer who knows how to listen and communicate with children. She has won the praise of sociologists and educators, as well as the affection of many young readers.
Ms. Krementz was the 1984 Recipient of the Washington Post/Children's Book Guild Nonfiction Award for "creatively produced books; works that make a difference." She lives in New York City with her husband.
This special hardcover edition of "A Very Young Rider" will be available directly from the publisher at http://www.dreamhousepublishing.com this November. The beloved equestrian children's book retails for $24.95.
Media Contact:
Linda Wittman,
Director of Marketing,
DreamHouse Publishing,
727-459-4863
# # #