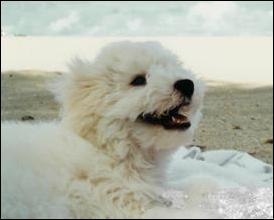 Pompano Beach, FL (PRWEB) November 11, 2005
1-800-PetMeds today announced that thousands of dollars will be awarded in their new monthly Cute Pet Contests. Participants can submit one photo of their dog or cat each month at http://www.1800PetMeds.com. The pet photos will be posted on http://www.1800PetMeds.com where website visitors can rate the pictures to determine the cutest pet. The pet with the highest rating average among the top 10 vote getters will win $1,000 in the monthly Cute Pet Contests. Visit http://www.1800petmeds.com/petcontest for official rules and entry information.
1-800-PetMeds Cute Pet Contests Entry "Tyler On The Beach"
The cute pet contests will begin on the first of each month, 12:01 am, Eastern Time (ET) and end the last day of the same month, 11:59PM (ET). Entries can be submitted by clicking on http://www.1800petmeds.com/petcontest, completing an online entry form and following the additional steps. Each verified monthly grand-prize winner will receive a $1,000 cash prize. Contest entries are open to legal residents of the United States who are 18 years of age and older at time of entry. All photographs must be of the entrant's pet and must have permission of any person/pet appearing in the digital photograph to be able to grant the sponsor the right to display the photograph submission on line or in print. Previously published photographs or photographs that have won any other award will be disqualified. For official terms and rules, please visit http://www.1800petmeds.com/petcontest. Automated voting or entries will not be allowed.
About 1800-PetMeds
Founded in 1996, PetMed Express is America's largest pet pharmacy, delivering prescription and non-prescription pet medications and other health products for dogs, cats, and horses at competitive prices direct to the consumer through its 1-800-PetMeds toll free number and on the Internet through its website at http://www.1800petmeds.com.
1-800-PetMeds.com announced that monthly pet photo contest special prizes of $1,000 will be awarded in the monthly "Cute Pet Contests". The pet photo contests began in November 2005.
This press release may contain "forward-looking" statements, as defined in the Private Securities Litigation Reform Act of 1995 or by the Securities and Exchange Commission, that involve a number of risk and uncertainties, including the Company's ability to meet the objectives included in its business plan. Important factors that could cause results to differ materially from those indicated by such "forward-looking" statements are set forth in Management's Discussion and Analysis of Financial Condition and Results of Operation in the PetMed Express Annual Report on Form 10-K for the year ended March 31, 2005. The Company's future results may also be impacted by other risk factors listed from time to time in its SEC filings, including, but not limited to, the Company's Form 10-Q and its Annual Report on Form 10-K.
# # #