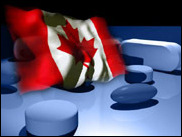 They may not be getting balanced advice from private insurers because they are seen as potential clients, not as patients.
Vancouver, Canada (PRWEB) November 14, 2005
Many American seniors are feeling pressured to sign up for the new Medicare prescription drug program as the enrolment period begins. But with a dizzying array of state plans, difficult qualification criteria and limited formularies most seniors are finding the program unnecessarily complex and unwieldy.
Many individuals are discovering that the actual savings under Medicare may be minimal and fear they will shrink even further with rising premiums. Therefore, it is advisable that consumers consider all of their options including purchasing medications from a Canadian pharmacy.
CitizensMeds (http://www.citizensmeds.com) provides a one-stop resource for American consumers who struggle with the cost of their prescription drugs. The site offers helpful healthcare tips about how to manage your medications and protect yourself when buying prescription drugs online. The most useful feature is the capability for consumers to perform an instant personal analysis online that compares the bottom-line costs from Medicare versus a Canadian pharmacy. Patients can also call toll-free 1-800-665-3381 for a free consultation that will guide them through a series of choices.
"We have launched this site with the patient's best interest in mind to educate them objectively about a complete range of available options and help them make an informed decision," said Karen Lee, spokesperson for CitizensMeds. "They may not be getting balanced advice from private insurers because they are seen as potential clients, not as patients."
Examples of average annual savings from CitizensMeds.com vs. Medicare Part D* (see attached spreadsheet):
$ 1000 Retail = $ 282 savings vs. Medicare D
$ 3000 Retail = $ 156 savings vs. Medicare D
$ 5000 Retail = $ 956 savings vs. Medicare D
includes premiums, deductible and co-pays, assumes a 40% average savings from Canada
Although specific costs of private plans will vary, so too will their specific coverage of drugs. Seniors need to carefully review the plan's drug coverage to ensure their prescriptions are included. Even if enrolled in Medicare Part D, there are circumstances that require a person to pay 100% of their drug costs - an ideal time to turn to Canada.
About CitizensMeds.com (http://www.CitizensMeds.com)
CitizensMeds provides healthcare information for seniors and those with low or fixed incomes who are looking for the opportunity to save money on their prescription medications and gain control over rising healthcare costs. All orders are filled by a licensed Canadian pharmacy (B.C. license #18725/Pharmacare #V04).
Should your organization wish to include a link to CitizensMeds.com from your website, please contact Hugh Kelsey at 1-866-303-7088.
Media contact:
Karen Lee
CitizensMeds.com
Toll-free: 1-866-602-7370
e-mail: klee@oneworldrx.com
Web site: http://www.CitizensMeds.com
# # #