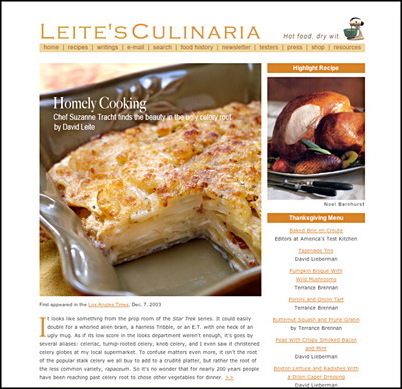 When you consider we were up against some of the giants in the industry with huge budgets
New York, NY, (PRWEB) November 13, 2005
In a ceremony on Oct. 29th, Leite's Culinaria beat out an esteemed list of competitors, including BBC Food (UK), KQED's Jacques Pepin: Fast Food My Way (USA), Cuisine (New Zealand), and Gastronomic Meditations (USA), to win the 2005 World Food Media Award for Best Food and/or Drink Web Site. The award, a golden ladle, was one of 29 given to food professional worldwide in 25 categories.
The food and drink equivalent of the movie Oscars, the World Food Media Awards presented by Wolf Blass wines celebrated the work of recipients from around the world, with gold Ladles going to UK, USA, Australia, New Zealand, Belgium, and Canada. A highlight of the biennial Tasting Australia festival, the Awards presentation took place at the Hyatt Regency Hotel, Adelaide.
Publisher and editor-in-chief David Leite was surprised by win. "When you consider we were up against some of the giants in the industry with huge budgets," he says, "it's astonishing that we won. It was quite a coup for us."
Food editor Linda Avery surmises as to why Leite's Culinaria picked up the top prize in the Web-site category: "We're the only food site that I know of that includes feature-length articles and columns; food history pieces; resources; and recipes from best-selling cookbooks, the James Beard House, and Portugal, which is from where David's family hails. We also have a pool of 120 recipe testers throughout the world who test many of the dishes we post. So the site has something for everything."
While the honor was celebrated by the editors and staff of the site, Leite decided to turn the win into an opportunity for other writers by creating the Leite's Culinaria Scholarship for Narrative Food Writing. The $1,000 award toward registration and lodging for the 2006 Symposium for Professional Food Writers at The Greenbrier, in White Sulphur Springs, WV, will be awarded to a novice food writer (writing for fewer than five years) whose work is narrative in nature. The goal of the scholarship is to promote literary writing (essays, food novels or narrative nonfiction) that has a strong, expressive voice and a unique perspective on the world of food.
"I wanted to give back," says Leite. "The World Food Media Award shined a spotlight on us, and we wanted to share that with up-and-coming writers so they can get exposure, too."
For more information on the World Food Media Awards, visit http://www.worldfoodmediaawards.com/wfma05. To apply for the Leite's Culinaria Scholarship for Narrative Food Writing, visit http://www.greenbrier.com/foodwriters.
Contact Info:
Rachel Seow
Leite's Culinaria
119 W. 72 St., No. 151
http://www.leitesculinaria.com
###