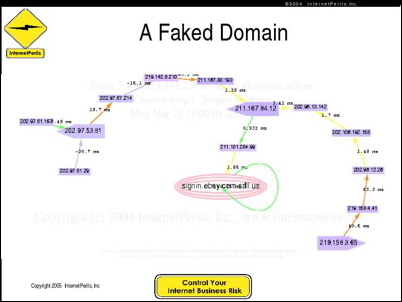 Science and Security – Informing New Zealand.
Austin, TX (PRWEB) November 14, 2005
Internet pioneer, John S Quarterman, will address the Royal Society of New Zealand on November 17th in Wellington NZ, during the Society's annual conference that focuses this year on "Science and Security – Informing New Zealand."
Quarterman, president of InternetPerils--- the leading provider of Internet Security solutions beyond the firewall--- will argue that, while good and necessary, traditional Internet Security is no longer sufficient. Attacks from outside the firewall including: bot herders, spammers, phish ers, and pharm ers, identity theft, worst-case worm s, virus, and denial of service attacks account for hundreds of billions of dollars worth of risk to ebusiness. Not to mention power outages, congestion, terrorism, hurricanes, tsunamis, and earthquakes.
Quarterman will demonstrate to the Royal Society that there are solutions beyond technical security, starting with backups, redundancy, and diversity. Further solutions include financial risk transfer instruments for Internet business continuity and the development of Catastrophe and Performance bonds that can be adapted to Internet insurance to handle aggregation, and to ISP s for Service Level Agreements (SLAs).
Quarterman concludes that aggregate damage requires collective action. Building higher forts around individual organizations is no longer sufficient. And, finally, cooperation is required including new, effective regulatory and legal solutions.
About the Royal Society of New Zealand
The Royal Society of New Zealand (RSNZ) is an independent, national academy of sciences, a federation of some 60 scientific and technological societies, and individual members. The RSNZ promotes a critical awareness of science and technology in schools, in industry and in society. The RSNZ invests in excellence in people and ideas and puts them to work as an inspiration to New Zealanders. The RSNZ administers several funds for science and technology, publishing eight journals, offering science advice to government, and fosters international scientific contact and co-operation. For more information see http://www.rsnz.org/.
About InternetPerils
Internet Security Solutions Beyond the Firewall
InternetPerils is the leading provider of automated quantification and visualization products that enable eCommerce, banks, ISPs, insurers, and governments to better manage Internet risks beyond the firewall they cannot control. Phishing, cable cuts, congestion, and natural disasters require external measurement and coordinated response. InternetPerils' products identify and measure Internet Security risks worldwide, and deliver the real-time intelligence required to develop innovative mitigation, insurance, ebusiness performance measurement, business continuity and disaster recovery strategies.
For more information, visit http://www.internetperils.com and subscribe to John S. Quarterman's Security blog, Perilocity, at http://riskman.typepad.com/perilocity.
Editor Contacts
John S. Quarterman, InternetPerils, (512) 272-8506
Bill Gram-Reefer, WORLDVIEW, 925-215-8463
###