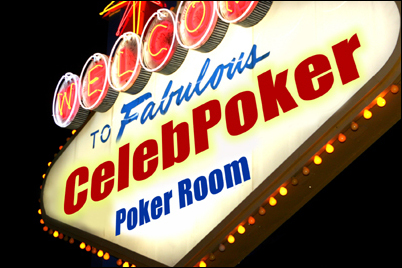 (PRWEB) November 17, 2005
November 22nd the world will be watching this years 33rd Annual American Music Awards live from Los Angeles. The show will feature over 21 musical acts from all genres and styles.
The star studded event will feature top musical acts such as Bow Wow, Mariah Carey, Ciara, Kenny Chesney, Sheryl Crow, Hilary Duff, Lindsay Lohan, The Rolling Stones, Santana and Gwen Stefani. If the show resembles last year then viewers are in store for the most unpredictable and exciting musical event on television.
Behind the acceptance speeches and live performances entertainers will come to this years AMA's to be entertained themselves. By popular demand and a solid reputation there will be live texas hold'em poker hosted by the worlds first interactive Celebrity poker room -- http://www.CelebPoker.com . The amazing popularity of Celebrity Poker Showdown and the like have sparked interest in the game from Hollywood to the rest of the world. It's not uncommon at all to find a "celebrity" poker game at movie studios and actors homes because lets face it, we all love poker. What is also common among celebrity poker players is to find them pushing chips and bluffing hands online at the tables of CelebPoker.com
http://www.CelebPoker.com provides celebrities the chance to play a safe and secure game of texas hold'em with fans and enthusiasts alike, live online anytime and any place they choose.
This summer artists were introduced to the action, live at the World Music Awards and since, the response from Hollywood has been amazing. Every day poker players who have made CelebPoker.com their "home" poker room have been surprised on more than one occasion at the table, by a Star player joining the game. On CelebPoker.com celebrities are identified by a star icon and their image appearing next to their username, which is of course, their real name. During the AMA's, a special celebrity avatar will be set up displaying the nickname "AMA's" with a star attached to it. When you mouse over the avatar it will display the celebrity's name, live at the AMA's playing poker online. This adds a huge element of excitement and story telling rights to players and fans alike at http://www.CelebPoker.com.
As the excitement grows and the anticipation to this years American Music Awards nears, players on CelebPoker.com will have an added element of surprise. All day long at the event celebrities of all kinds will be coming and playing poker with the crew of CelebPoker.com There is absolutely no way of knowing who will be on the site at any given time. As for pop appeal and endorsement, supermodel and actress Traci Bingham will be behind the felt trying to take players minds off the game and chips out from under them. It will be a different role for Ms. Bingham who less than a few months ago was literally on top of the poker action at CelebPoker.com and their tables as well. With all the buzz and celebrity power at the 2006 AMA's there is no telling what can and will happen at the CelebPoker.com tables as well as online live!
The way everyone gets to be a part is by joining with CelebPoker.com free on their site and becoming a member of the worlds finest online poker room. If you're new to the game there is a free "How to Play" video by actor Lou "Diamond" Phillips and a complimentary poker school with articles and tips. There is something for everyone, of any level and stature at CelebPoker.com
Check out the site http://www.celebpoker.com now for an amazing two hundred percent bonus to any new depositors to celebrate celebpoker.com being at the American Music Awards show
# # #