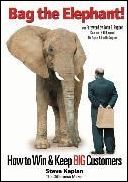 Chicago, IL (PRWEB) November 15, 2005
The now highly popular Myers-Briggs Type Indicator (MBTI) shows that everyone has one of sixteen different personality types. The MBTI identifies four primary ways people differ: how people draw conscious energy, take in information, make decisions, and orient their lives.
The salespeople in a company can't ask customers to take a 90+ question personality inventory. But sales opportunities can be maximized by listing each revenue stream with each targeted customer type.
Next, create an ideal profile of the salesperson for each set. Then examine the personality of each salesperson in the company and make the best match.
So—how to test such matches? Who's better qualified to tell what customers will respond to than the customers themselves? Steve Kaplan, author of the bestselling book "Bag the Elephant!" tells how to get such information without expensive outside help:
Questionnaires - Create a one-pager and place it at the point of sale. Include clipboards and pens for convenience. If this won't work for a particular type of business, put the telephone, email, or regular mail to use.
Enlist Help - Ask the salespeople in the company for additional input from clients. Sales calls are captive environments, and customers are almost always willing to participate if it can help them get what they need quicker, better, and faster.
Walk the Aisles – It's amazing what people will share if they are simply asked questions in a courteous manner. They feel as if they're appreciated and contributing something important.
Talk to Competitors - It may not seem natural, but others in your industry would probably be willing to provide their valuable perspective. Ask them. People enjoy being viewed as experts. They like being respected.
Talk to Suppliers - Yet another possible source of information from one link up the food chain.
Armed with this information, business owners have a much better chance of maximizing sales opportunities through matching the right salesperson with the right customer.
Learn about Steve Kaplan's other ideas for business growth and business leadership at http://www.differencemaker.com/shop.asp?id=182.
CONTACT:
Michael Drew
850-747-8188
# # #