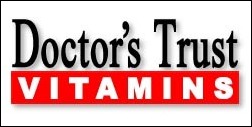 Doctor's Trust web customers are very savvy. They enjoy the convenience of using the web to compare prices using the very available search engines and shopping sites
Orlando, FL (PRWEB) November 17, 2005
Doctor's Trust Vitamins Launches New Website; Popular E-Commerce Site Now Is Offering 40-80% off all Supplements, as well as a Health Advisory Board Resource to Consumers
After much anticipation by customers, Doctor's Trust Vitamins launched a new website that is easier to navigate and to search for products. The below- wholesale prices on Vitamins, Supplements, and Herbs at DoctorsTrust.com are attracting new customers from other vitamin retailers and drugstores.
Orlando, FL (Doctor's Trust Vitamins) November 01, 2005 – Studies show that people of all ages are interested in learning about their health and the role vitamins and supplements play in it. In the past, traditional health food stores have been a key destination for vitamin purchases. But with the advent of the web, online vitamin websites that carry the most popular supplements such as Glucosamine, Policosanol, and Alpha Lipoic Acid have been steadily gaining market share. The launch of the new Doctor's Trust Vitamins state of the art website was much anticipated by a growing market and their interest in studying and buying vitamins and supplements over the web.
A majority of the general public has discovered the convenience, accessibility, and large amount of information available on e-commerce websites. With its new website, Doctor's Trust Vitamins provides online features that are frequently requested by its customers. Features such as the Health Advisory Board allow the public to ask questions and receive answers from a panel of health experts. The Health Breakthrough section provides cutting edge articles on health and natural supplement-related research.
By far the most popular section of the site is Warehouse Specials—a section dedicated to the most heavily discounted vitamins and supplements. Those who want to receive coupons and sale notices can sign up to be on the Email Mailing List. Many customers also sign up for the Free Health Newsletter, a monthly email containing the latest health updates.
"Doctor's Trust web customers are very savvy. They enjoy the convenience of using the web to compare prices using the very available search engines and shopping sites," said Andrew Goldstein, President of Doctor's Trust Vitamins. "They tell us they buy from us because we have the lowest prices and the best service they can find. And we are not just getting our customers from the web. Many of our customers tell us they have stopped buying vitamins from their local supermarkets, health food stores, and drugstores because the selection, convenience and savings on http://www.DoctorsTrust.com are so dramatically better."
But is what you buy on the web the same quality as what you get from your local store? Andrew Goldstein explains, "In addition to offering heavy discounts on thousands of supplements from top national brands, Doctor's Trust Vitamins also carries its own private label products. Each ingredient is individually tested for quality, freshness, potency and purity. All of the products meet or exceed the United States Pharmacopoeia (USP) standard manufacturing guidelines.
For additional information on the news that is the subject for this release, contact Andrea Hoffman or visit http://www.DoctorsTrust.com.
About Doctor's Trust Vitamins:
Doctor's Trust Vitamins offer 40-80% off thousands of vitamins, herbs, and supplements, including top national brands. They have sold over 4 million bottles of nutritional supplements to 250,000 customers.
Andrea E. Hoffman
Public Relations Director
Doctor's Trust Vitamins
4419 Parkbreeeze Court
Orlando, FL 32808
407-521-5671
# # #