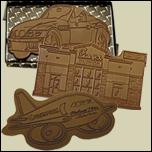 We were faced with a choice between putting the brakes on further sales growth or investing in a larger, more efficient plant
BLAINE, WA (PRWEB) November 17, 2005
Totally Chocolate, a producer of custom chocolate products, will break ground in December for a state-of-the-art 60,000 square-foot factory. The new plant will more than double the company's existing manufacturing space and will begin operation in early summer 2006.
According to Jeff Robinson, Totally Chocolate's founder and CEO, demand for its custom chocolate bars and other business promotional items has skyrocketed over the past three years, stretching the current manufacturing facility to capacity limits. This year, Totally Chocolate will deliver over one million pounds of custom chocolate gifts – the largest amount of product in its history.
"We were faced with a choice between putting the brakes on further sales growth or investing in a larger, more efficient plant," stated Robinson. "Continued strong customer demand made an excellent business case for expansion."
Totally Chocolate's existing manufacturing plant will be leased or sold, possibly to another food manufacturer.
About Totally Chocolate, Inc.:
Based in Blaine, WA, Totally Chocolate, Inc. offers custom, premium chocolate products to large and small corporate customers that seek unique items for corporate gift-giving, customer appreciation, and sales promotions. Totally Chocolate uses patented technology to make remarkably detailed chocolate gifts featuring company logos, messages, and engravings of products, machines, or buildings. Privately held, the company employs 120 people. Call 800-255-5506 or visit http://www.totallychocolate.com.
Contact for Totally Chocolate:
Jeff Robinson
360-332-3900
http://www.totallychocolate.com
# # #