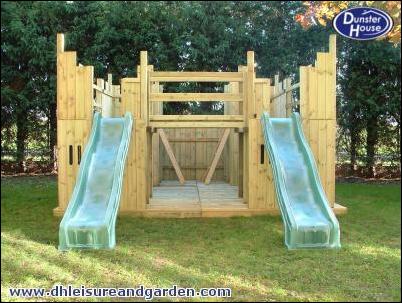 (PRWEB) November 20, 2005
The most effective form of exercise for children is active play, so with growing concerns about children's health, what better way for them to keep active than by playing on a Climbing Frame.
A Climbing Frame or Swing Set is a fun alternative to watching television or playing computer games, and comes with the added bonus of exercise. Playing outdoors on a Climbing Frame can offer a starting point in helping children to develop and improve their health and fitness. Parents should encourage active play outside in the fresh air and help their children to be healthy and happy as they play safely in the security of their own garden.
A UK company, Dunster House, offer a wide range of wooden Climbing Frames and Swing Sets for the garden. Now including a new castle range that really lets children's imaginations run wild. Designed to look like castles, the new Climbing Frame range will keep children active and stimulate them both physically and mentally. The Castle Maximus provides a large play area for children to enjoy together and develop their social skills, and the Castle Guard is a compact single tower. Children's eyes will light up at the thought of having a fairytale castle or Medieval Fort in their own garden and can escape into their own little adventure land, enjoying all the fun of imaginative play with the added benefit of exercise.
Dunster House garden products are made from pressure treated timber, and all Climbing Frame and Swing Sets comply with European Safety Standards, to give a safe and long lasting product. Traditional wooden play equipment has a rustic charm as it blends naturally into the landscape as an attractive feature in the garden. The many different combinations and additional accessories to choose from allow you to create your own individual Climbing Frame to suit you and your child and offer a variety of opportunities for playing, discovering, and developing.
Dunster House have a wide range of timber garden products available, including log cabin kits.
For further information on the extensive range of Climbing Frames and Swing Sets, or any of the other products provided by Dunster House, visit http://www.dhleisureandgarden.com
Dunster House
Caxton Road
Bedford
Bedfordshire
England
MK41 0EB
Tel: 01234 272445
Fax: 01234 272588
# # #