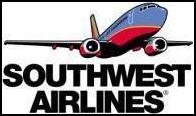 Dallas, TX (PRWEB) November 18, 2005
Southwest Airlines has travel tips for this busy Holiday Season that will keep spirits flying high. The Holidays can be hectic, and Southwest tips can help Customers make their holiday trip stress-free.
Tip 1: Get your Yoga cards out…it's time to be flexible! Southwest Airlines, known for its low fares, makes traveling this holiday season as easy as clicking your mouse. To get the best travel deals, visit http://www.southwest.com. Keeping your travel dates flexible will help Customers find fares that fits their holiday budget, and flexibility is made easy on http://www.southwest.com through Southwest Shortcut—a tool that assists Customers by offering alternate travel dates that may have a lower fare available.
"Flights are filling up earlier this year, but there are still great deals available," said Keith Taylor, Southwest Airlines Vice President of Revenue Management and Pricing. "Save your dough for holiday gift giving. With just a few clicks of the mouse, Southwest Customers can get home for the Holidays."
Tip 2: But I can't remember Aunt Bertha's size! Never fear, the southwestgiftcard is here. No one will want to return the new southwestgiftcard. In amounts ranging from $10 to $1,000, the southwestgiftcard comes in sizes to fit everyone's wallet. Since it never expires or loses value, it's perfect for both the jet setters and procrastinators on your list. "The gift of travel never goes out of style," said Joyce Rogge, Southwest Airlines Senior Vice President of Marketing. "Southwest is all about giving Customers what they want, and the southwestgiftcard is sure to be high on everyone's gift list."
Tip 3: Over the river and through the woods, wait—I have to get through the airport first! Southwest Airlines offers the keys to easy travel. Below are some of Southwest Airlines' secrets to lightening the load; securing the coveted "A" boarding pass; and zipping through the airport; visit http://www.southwest.com to view the complete list and check it twice:
Your mother was right; the early bird does get the worm! Like your favorite shopping center, the lines at designated airport parking areas, ticket counters, and security checkpoints get longer, especially on peak travel days. Though all airport personnel will be diligently working to help you have a pleasant airport experience, Southwest expects Tuesday, November 22; Wednesday, November 23; Sunday, November 27; and Monday, November 28 to be busier than usual.
Boarding passes, flights times, and long lines; Oh My!: Getting to the airport is one thing; moving through it is another. That's why Southwest recommends that you [check in online] to help you get from the main entrance to the designated departure gate more quickly. (Even if you plan to check luggage, you can still retrieve your Boarding Pass via southwest.com.) Southwest encourages our Ticketless Travel Customers to visit the Travel Center to cancel, change, and/or rebook their flight reservations. All ticketed Customers may contact Reservations (1-800-435-9792) for additional assistance. Please visit Flight Status Online for the latest information regarding your flight. You may also sign up for our convenient Flight Status Messaging to receive the latest information about your flight via e-mail, cell phone, or pager.
Baggage is naughty and nice, make sure you check yourself before checking your bags! All luggage is subject to inspection, and regardless of the way it is packed or sealed, it may have to be opened. In addition to our normal baggage policies and procedures, Southwest recommends arriving at the ticket counter 60 to 90 minutes before your flight's scheduled departure. Click here to review our suggested Airport Arrival Times. To ensure that your name and contact information are displayed on your checked luggage, Southwest also recommends that you place a name tag (that includes a convenient phone number) on your carryon items and inside your checked baggage. That way, Southwest can attempt to return them should any get left behind. If you plan to bring a gift, please know that all wrapped packages must be opened for inspection by airport security. Though some airports that Southwest serves offer gift wrapping (courtesy of their concierge services), Southwest suggests shipping your gifts and packages ahead of time. Southwest also asks that you carry your keys and medicines on you (or in your carryon items) instead of in your checked luggage.
When In Doubt, Leave It Out. If you're not sure whether an item will be accepted past the security checkpoint, it's probably best to either travel without it or pack it in your checked luggage. For a list of items that can and cannot be carried onboard the aircraft, Southwest encourages you to visit: http://www.tsa.gov to help reduce the amount of time spent at the security checkpoint.
Help your little turkeys not be little jerkys: To ensure a pleasant travel experience for parents traveling with small children, as well as for Unaccompanied Minors, Southwest asks you to take a few minutes and visit southwest.com's Taking the Kids™ travel link.
For the Holiday Season or for anytime—take advantage of Southwest Airlines' super low fares, book their via the Internet and subscribe to Southwest Airlines' Click 'n Save e-mail updates as well as Southwest Airlines' newest technological innovation – DING!
DING! delivers Southwest Airlines' hottest deals directly to Customers' desktops allowing Customers to get a jump on the latest southwest.com sales! For more information, visit http://www.southwest.com/ding.
Media Please Contact:
Southwest Airlines Public Relations
+1-214-792-4847
Customers:
+1-800-I-FLY-SWA or +1-800-435-9792
en Espanol:
+1-800-VAMONOS or +1-800-826-6667
# # #