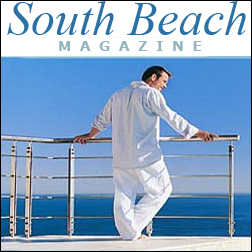 Miami Beach, FL (PRWEB) November 21, 2005
Activity in the red-hot Miami Beach hotel and real estate market requires South Beach Magazine to update its annual "Fab-Five" list of Top Boutique Hotels for the 2005 winter season.
Each year South Beach Magazine combines feedback received from its readers with its own research to assemble a list of top boutique hotels the magazine feels will provide an outstanding vacation experience for Miami Beach visitors. This year, the blazing Miami Beach real estate market has placed several hotels into re-developed, and an updated list is required to give visitors an accurate view of available hotels for the winter season. The updated list can be found at South Beach Magazine's web site at http://www.southbeach-usa.com.
The annual Fab-Five list, which is released in late summer to allow travelers ample time to plan their visits, looks for hotels with a trend-setting interior design, proximity to upscale shopping, and of course, easy access to South Beach's legendary nightlife scene.
South Beach Magazine is an online publication which chronicles the Miami Beach scene with interviews, profiles and articles on trends in nightlife, hotels, real estate, dining, and shopping.
# # #