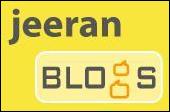 We have added Blogs, as another useful tool, to empower our users and allow them to fully utilize the latest technologies and trends in the Internet world. A clear manifestation of how blogs fit in our line of services is that since our blogs soft launch earlier this month, two thousand bloggers have joined the Jeeran blogsphere
(PRWEB) November 22, 2005
Arab users can now join the blogging revolution. Blogs are easy-to-set-up websites which are used as an online journal by their creator and allow for comments and contributions to be posted by visitors. Blogs can incorporate images, videos and other media in addition to text.
People who have created blogs are referred to as 'bloggers', with millions of blogs created worldwide. The huge potential for millions of Arab bloggers to join the revolution has been hampered by the lack of a simple and flexible Arabized solution for blog creation and use. Typical of its pioneering role in Internet services for Arabs, Jeeran has now addressed that need.
"We have always been a user-driven company. Blogging, the epitome of user interaction today, is the natural and logical extension to our current line of products and services," says Omar Koudsi, Co-founder & President of Jeeran. "We have added Blogs, as another useful tool, to empower our users and allow them to fully utilize the latest technologies and trends in the Internet world. A clear manifestation of how blogs fit in our line of services is that since our blogs soft launch earlier this month, two thousand bloggers have joined the Jeeran blogsphere" he added.
Jeeran Blogs are complementary to the range of products and services it provides for its member base in the Arab world and beyond. Jeeran Blogs are distinguished by being specifically developed to cater to the needs and requirements of the Arab user; they are very simple to set-up, fully customizable and integrated with the rest of Jeeran's innovative services. And, thanks to Jeeran's policy of user-driven, continuous development Jeeran Blogs will listen to user comments and ensure that the blog service evolves with the exciting and fast-paced developments in blogging.
"Since we launched Jeeran in 2000, we have made it our strategy to analyze and predict the needs of the Arab online community and present them with solutions which address those needs in an easy to use format," says Laith Zraikat, VP of Jeeran.
"People come to Jeeran to use our web-based tools and create an online presence for them selves. We have seen tremendous success for our hosting and web building tools, which grew our community of webmasters to more than 500,000 registered members. Now with Jeeran Blogs, our members have another easy-to-use tool by which to enhance and strengthen their online presence. It will also add a whole new audience of bloggers to Jeeran," he concluded.
Jeeran was the first Arab Web Hosting Community on the Internet and has since successfully led and redefined the concept of an online community with a customer focused approach; setting a standard in the region and beyond as a comprehensive provider of innovative web solutions and technologies. Jeeran's efforts over the years have given it the competitive edge as an Arab online community and Jeeran is well recognized as the market leader in its domain. Translating this leadership into the blogosphere, Jeeran seeks to ensure that its community continues to be at the forefront of the Internet world.
###