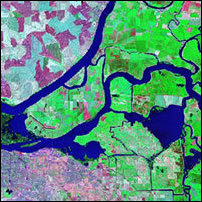 Wellsboro, PA (PRWEB) November 21, 2005 –
High-resolution Landsat satellite images for seventy-six major cities can be viewed online at Geology.com. Just click on a thumbnail image and a colorful high-resolution scene of the city and surrounding environment will fill your monitor. A Landsat viewing tutorial is provided for those who are new to Landsat images. The images will be of interest to geologists, city and regional planners, geographers, students and teachers. These new images will also be interesting viewing for anyone who enjoys spectacular views of cities or Earth's surface.
Featured cities include Akron, Albuquerque, Anchorage, Atlanta, Augusta, Austin, Bakersfield, Baltimore, Baton Rouge, Birmingham, Boston, Buffalo, Charlotte, Chicago, Cincinnati, Cleveland, Colorado Springs, Columbus, Corpus Christi, Dallas and Fort Worth, Denver, Des Moines, Detroit, El Paso, Fort Wayne, Fresno, Grand Rapids, Greensboro, Honolulu, Houston, Indianapolis, Jacksonville, Kansas City, Las Vegas, Lexington, Los Angeles, Louisville, Lubbock, Madison, Memphis, Miami, Milwaukee, Minneapolis and St. Paul, Mobile, Modesto, Montgomery, Nashville, New Orleans, New York, Newark and Jersey City, Oklahoma City, Omaha and Lincoln, Philadelphia, Phoenix, Pittsburgh, Portland, Raleigh, Richmond, Rochester, Sacramento, San Antonio, San Diego, San Francisco, Seattle, Shreveport, Spokane, St. Louis, Stockton, Tampa, Toledo, Tucson, Tulsa, Virginia Beach and Norfolk, Washington, Wichita, and Yonkers.
"Satellite images are one of the highlights of Geology.com. We know that many people want to see and study the geography and geology of where they live, work and play," says Geology.com owner Hobart King.
Other satellite images and map highlights of Geology.com include: Satellite Images of Meteor Impact Structures, Interactive Plate Tectoincs Map, Highest Points in All 50 States and Satellite Images of US States.
About Geology.com:
Geology.com serves as a portal to geology and earth science information across the Web. It provides resources for learning about geology and is visited by over 100,000 teachers, students and geologists each month.
For more information, visit Geology.com.
Contact:
Hobart King
Geology.com
570-724-4728
# # #