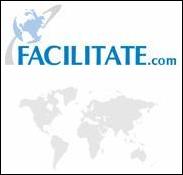 Web conferencing addresses the informational meeting, such as a sales demo or a training session, where knowledge is pushed out to an audience through a PowerPoint or a desktop application
San Francisco, CA (PRWEB) November 22, 2005
25% of the 4 billion meetings held each year aren't just about listening to presentations. They are about solving problems and making decisions, according to Chuck McPherson, CEO of Interactive Meeting Solutions, a high tech meeting firm in Santa Rosa, California. Yet despite the buzz, most of the web collaboration tools in the marketplace don't address the key productivity pitfalls of these meetings.
"Web conferencing addresses the informational meeting, such as a sales demo or a training session, where knowledge is pushed out to an audience through a PowerPoint or a desktop application," explains McPherson. "There may be some limited two way exchange in the form of chat windows and simple polling. However, these services don't address the real productivity issues of decision-making meetings, which have to do with overcoming inhibitions, dealing with over-dominant players, and keeping participants fully engaged. Online meeting software like FacilitatePro flattens meeting politics and keeps people focused on the end goal."
The International Association of Machinists adopted FacilitatePro to help unions and businesses forge joint decision-making partnerships. Jim Reid, High Performance Work Organization Partnerships staff, explains: "FacilitatePro allows union members and management representatives to brainstorm key issues anonymously, so that the best ideas surface without any social or political inhibitors. With FacilitatePro we are able to bring the two sides of the table together, in a conference room or over the Internet. The result is a common action plan to promote job and business growth."
FacilitatePro web-based collaboration software is designed to capture, organize, prioritize and document ideas. Participants post their ideas via an electronic "note pad" onto an electronic "flip chart" for everyone to see. They build on the ideas of others with text, attached documents, images, and web links. The meeting leader transitions the group into decision-making by turning the flip chart into a voting ballot and selecting from a variety of voting schemes designed to reach consensus. Instant voting results and graphs provide a visual assessment of the level of agreement. Once decisions are made, the action planning mode turns the electronic flip chart into a simple Gantt chart. For more information visit our live software demonstration site or download a product overview.
About Facilitate.com
Since 1996 Facilitate.com has specialized in web-based collaboration software tools and techniques that dramatically enhance meeting productivity in the conference room or over the Internet. Facilitate.com has helped over 200 clients in industry, government and higher education transform meetings into powerful opportunities to solve problems and take decisive action. Visit us at http://www.facilitate.com .
Contact:
Danuta McCall
Facilitate.com
805-682-1148
Danuta@facilitate.com
FacilitatePro™ is a trademark of Facilitate.com in the U.S. and other countries.
# # #