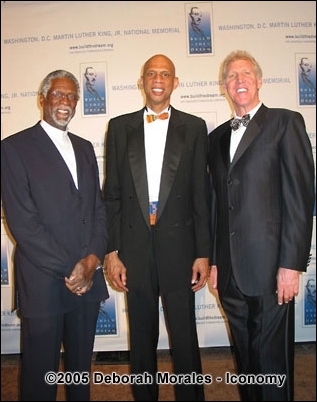 It took me until 1982 when I saw the movie Ghandhi to fully appreciate Dr. Kings courage and wisdom, at that point the light went completely on: this is activism at a much deeper level, and I began to understand peace on a much deeper level
Hollywood, California (PRWEB) November 25, 2005
George Lucas, creator and director of Star Wars fame, made a monumental contribution to the Martin Luther King Memorial today, adding $1,000,000 to the pot to create the first memorial to a person of color. Architected to be centered between the Abraham Lincoln and Thomas Jefferson monuments in Washington DC, the MLK Memorial is within view of where Dr. King delivered his famous "I Have a Dream" speech.
Attending the event were such luminaries as guitarist Carlos Santana and wife Deborah, General Motors Foundation VP Rod Gillum and wife Linda, and a host of superstar A-list actors and Hollywood regulars including Academy Award Nominee Samuel L. Jackson and George Lucas. The development of the monument is scheduled to break ground late 2006, and be completed two years later.
Adding impact to the event were a group of exceptional NBA leaders in Kareem Abdul-Jabbar, Bill Walton , Bill Russell and Nate Thurmond, all Hall of Famer's.
Mr. Abdul-Jabbar was especially nostalgic, recalling his first meeting with Dr. King at 17 years of age: "I didn't truly understand Martin Luther King's 'Peaceful Activism' at that point... I was still angry at the current position of Black's in 1960's America" says Abdul-Jabbar. "It took me until 1982 when I saw the movie Ghandhi to fully appreciate Dr. Kings courage and wisdom, at that point the light went completely on: this is activism at a much deeper level, and I began to understand peace on a much deeper level".
Hall of Famer Bill Walton, another larger than life NBA legend had this to say regarding the event: "I have always believed in racial equality and feel very fortunate to be included in and to be able to contribute to such a significant project. Dr. King has always been a hero to me, a man who spoke his heart with incredible passion and conviction…To now see him memorialized like this is truly a dream come true. This icon of peace and unity will stand for eternity, and hopefully encourage others worldwide to seek more cooperative and positive ways to achieve common ground. I am tremendously encouraged by the possibilities this represents."
George Lucas's donation is one of the largest single additions to the MLK Memorial, helping to push the total to over $43,000,000.
Carlos Santana, Al Roker and Halle Berry are the visible spokespeople for the memorial, making their presence on TV, radio and print to raise public awareness.
For more information on the Martin Luther King Memorial, please visit BuildTheDream.org.
Contact:
Deborah Morales, Iconomist
310-762-1041
###