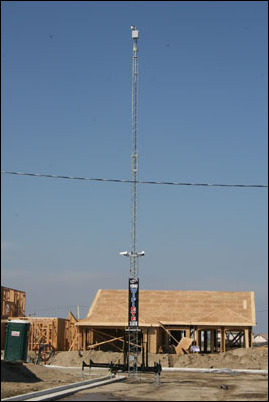 a picture is worth a thousand words
Visalia, CA (PRWEB) November 28, 2005
Continuing to improve on the old adage that "a picture is worth a thousand words", wifieye, inc., located in Visalia, Ca., has developed one of the most advanced video security systems to date.
Wifieye's Automated Mobile Surveillance System (AMS for short) integrates the most up to date technology with the old standard of the higher in the air you get the more you can see. With the placement of their IP Based digital cameras at heights of 20 – 55 feet on an easily transported trailer unit, on site security is not a question of what you see, but how much do you want to see. When coupled with a wireless transmission unit and an on site recording/viewing station connected to a high speed internet source , the AMS system provides customers with the ability to monitor production, arrival and departure of supplies and employee activity during work hours, as well as monitor for illegal activities such a theft or vandalism during night hours from any location in the world that provides high speed internet access.
With monitoring services also available and the ability to obtain "live chat" support on their website, wifieye has been a true leader in the field of wireless video security in a time when crime is on the rise and asset protection is most essential.
For more information visit the website at http://www.wifieyeinc.com, or by telephone at 1-866-wifieye (1-866-943-4393).
# # #