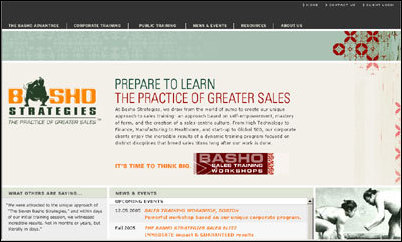 Due to increased public demand, we are offering our premier corporate sales training program to the public in an interactive, instructor-led workshop
Burlington, MA (PRWEB) November 29, 2005
Basho Strategies, Inc., an international sales training firm that empowers organizations and individuals to achieve immediate sales results, today announced its new program: The Basho Strategies Sales Training Workshops. Based on its internationally renowned corporate sales training program, these two-day seminars will enable attendees to immediately impact their sales performance by focusing on the fundamental strengths necessary to reach and exceed their sales goals.
The Basho Strategies Sales Training Workshops will provide the necessary tools for organizations and individuals to generate sales activity, get immediate attention from key decision-makers, and employ powerful negotiation techniques for a faster close. These seminars were created to enhance the performance of inside and outside sales professionals, managers, executives, and entrepreneurs.
"Due to increased public demand, we are offering our premier corporate sales training program to the public in an interactive, instructor-led workshop," said M. Jeffrey Hoffman, President and CEO of Basho Strategies. "This seminar is based on the same techniques that are being implemented throughout Fortune 500 corporations across every major industry. It is very exciting that we can now offer these strategies to individual sales professionals and entrepreneurs."
The first Basho Strategies Sales Training Workshop will take place on December 5-6 from 8:00 AM until 5:00 PM in Burlington, MA. For further details about this event, please visit Basho Strategies' website at http://www.bashostrategies.com/public_training/sales_training_seminars.asp or at (781) 685-4959.
About Basho Strategies, Inc.
At Basho Strategies, we draw from the powerful world of sumo in our approach to sales training; an approach based on self-empowerment, mastery of form, and the creation of a sales-centric culture. Through our exclusive pipeline management program, "The Seven Basho Strategies," we concentrate on a series of powerful sales techniques that focus on self-reliance and tactical execution, immediately improving efficiencies within existing sales processes. Once employed, our clients enjoy the lasting impact of a unique training program that dramatically empowers their sales teams to achieve extraordinary sales results.
For more information about Basho Strategies, please call (781) 685-4959 or visit us on the Web at http://www.bashostrategies.com.
###