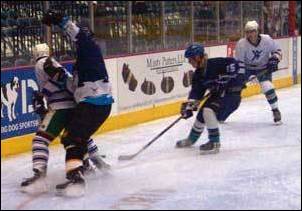 We've got the Marines out here after Veteran's Day and the team from Narconon representing the good things in America and the promise that we have for the youth of America. Sports are a wholesome outlet for youth today
Los Angeles, CA (PRWEB) November 25, 2005
The Long Beach Sports Arena was host to a charity hockey game between the U.S. Marines and the Narconon Miracles. The event was held to raise money for Mothers Against Drunk Driving (MADD) and Narconon Drug Education.
After hearing of earlier charity games the Narconon Miracles had participated in, Captain Bonair of the U.S. Marines contacted Narconon International to set up a game. Their team is comprised of Marines based at Camp Pendleton in San Diego County and they are in first place in their Division.
Many of the Marines' players have seen active duty in Iraq, and they stand for honor and integrity in serving our country. The captain of their hockey team expressed, "This is a chance to let kids know they should stay off drugs and stay in school. That's the best way to do it. I'm all for drug prevention and any time we can promote that with sports to keep the streets clean, I'm all for that."
The game was a lot of fun for players and fans alike and the Narconon Miracles ended up edging out the Marines by a score of 13-11. Following the game, the winning trophy was awarded to the Narconon Miracles by First Assistant Chief LAPD, Jim McDonnell.
"We've got the Marines out here after Veteran's Day and the team from Narconon representing the good things in America and the promise that we have for the youth of America. Sports are a wholesome outlet for youth today," said McDonnell.
Narconon Drug Education and Prevention Programs provide much-needed anti-drug information to hundreds of thousands of young people throughout the world each year and often participate in community events. You can view free online drug education booklets at http://www.drug-education.org.
For more information about future Narconon Miracles games or to find out more about the programs that are available, contact Narconon International today by calling 323-962-2404 or visit http://www.narconon.org.
###