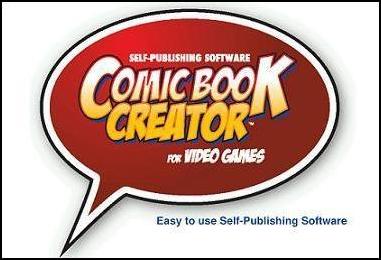 Comic Book Creator is a truly unique product in its ability to merge different forms of popular entertainment for fun and educational purposes, thus creating edutainment
Orange County, CA (PRWEB) November 25, 2005
Cape-wearing couch potatoes this Thanksgiving Holiday Season have a reason to rejoice with the announcement that Planetwide Games' self-publishing comic book software, Comic Book Creator(TM) is now available at retail outlets across the United States and Canada including Gamestop and EB Games and via digital download from http://www.MyComicBookCreator.com. The innovative software title allows consumers to utilize their own video game screenshots, art assets and digital photos to create personalized comic books and comic strips including capturing those special moments for your memories of family this Holiday Season.
"Comic Book Creator is a truly unique product in its ability to merge different forms of popular entertainment for fun and educational purposes, thus creating edutainment," said Kevin Donovan, President of Planetwide Games. "The title's intuitive drag and drop interface and wealth of features providing a user-friendly creative outlet for the whole family, regardless of artistic ability. Gamers can import screenshots and generate their own graphic novels; families can create custom comic books using their family albums and personal photos; and bloggers can add a humorous twist to their posts. The possibilities are endless."
Comic Book Creator is the first PC based self-publishing software to integrate the comic book and video game industries. Comic Book Creator's self-publishing software will empower a gamer or comic book enthusiast to construct their own original comic. Users will now be able to easily create and share their own comic book adventure captured and created from their PC based video game play.
To create a comic, users need only select from one of over 500 different layout and design templates, drop in their art assets and insert text bubbles to bring to life whatever story they can imagine. Comic Book Creator will work with any jpeg, bmp or gif digital image and once users complete their masterpiece they can share it with friends by printing or exporting the image into a PDF or HTML file for online distribution.
Minimum system requirements include a PC running Windows 2000 or higher, a Pentium 4 processor 128 MB of RAM, a CD ROM and a hard drive with 1 GB of free space. Comic Book Creator is now on sale for a suggested retail price of $19.99.
Free Digital download content packs of; Thanksgiving Fun, Bluetorch MOX Action Sports, and Fantasy Video Game are now available. Interested comic book and video gaming enthusiasts are encouraged to please visit: http://www.MyComicBookCreator.com and create lasting memories for this Holiday Season.
A 14-day trial of the Comic Book Creator Self-Publishing Software can be downloaded at http://www.MyComicBookCreator.com/instantdownload featuring all the functionality of the retail version of the software. The trial version printing and publishing capabilities contain a watermark on all printed and saved "Comic Book Creator" files. Watermarks are removed with the purchase of a full retail version of the software.
Users can purchase Comic Book Creator at video games and electronics retailers in the US and Canada. To find a local retailer, users can visit http://www.MyComicBookCreator.com.
About Planetwide Games
Based in Orange County, CA, Planetwide Games, Inc. is a provider of innovative games and application software. The Company's games and applications easily integrate with portals and major game developers, or can be sold separately through digital downloads and box sales at retail locations. Planetwide Games' Comic Book Creator is a new and innovative self- publishing software program that empowers users to create custom comic books using their own imaginations and digital images, and then publish them for friends online or in print. By providing an enhanced game playing experience and ease-of-use, Planetwide creates stronger online communities and new ways of expressing creativity, resulting in customer loyalty and longer sessions for portals and game developers. Planetwide Games also has 3D game engine software to develop branded titles, and a current library of casual games called Pixel Poppers(TM). The Pixel Popper library contains challenging games of strategy, trivia, sports and card games that can be downloaded to customers, major portals and social communities. Planetwide Games develops proprietary online technology and software products, and is building a worldwide network of affiliates. Visit http://www.MyComicBookCreator.com and http://www.PlanetwideGames.com.
Company Contact:
Mark Politi | Planetwide Games, Inc.
32 Journey
Suite 250
Aliso Viejo, CA 92656
Phone: (800) 560-2993
Media Contact:
Mike Larson | Edelman
5670 Wilshire Blvd.
22nd Floor
Los Angeles, CA 90036
Phone: (323) 202-1891
Devin Parr | Edelman
5670 Wilshire Blvd.
22nd Floor
Los Angeles, CA 90036
Phone: (323) 202-1072
Website: http://www.MyComicBookCreator.com
Website: http://www.PlanetwideGames.com
# # #